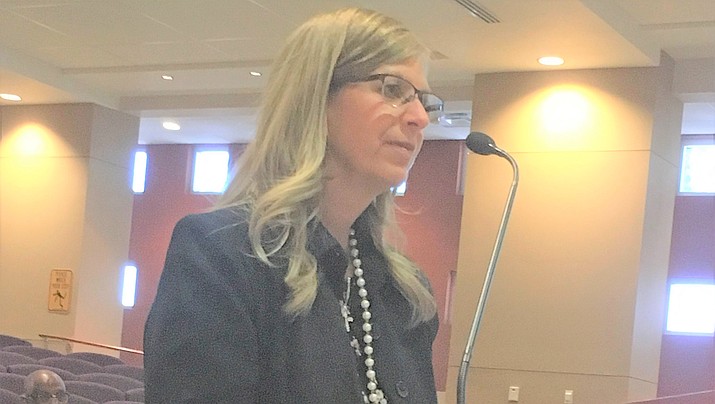 Photo by Hubble Ray Smith.
Originally Published: June 6, 2017 6:13 a.m.
KINGMAN – Mohave County Board of Supervisors on Monday asked finance director Coral Loyd to bring back two potential tentative budget proposals for 2018, one with a 16-cent increase in property tax rates and another with a quarter-cent increase in the sales tax.
The sales tax increase would generate about $6.5 million a year, whereas the property tax increase would bring in $2.8 million in additional revenue. A third version of the tentative budget would account for no tax increases.
Loyd prepared a tentative budget of $86.4 million for fiscal year 2018, with a $2.8 million shortfall, including $1.2 million payment to the Public Safety Personnel Retirement System, or PSRPS.
The budget showed $19.5 million in the general fund balance as of June 30.
Supervisor Steve Moss led the budgetary discussion with a priority on paying down about $20 million in unfunded liability for PSRPS.
Paying off the debt in seven or eight years will save the county tens of millions of dollars over the 30-year amortization period, Moss noted.
"Do we want to prepare a budget to send $61 million to the state pension?" he asked. "We did not incur that debt. It's the state pension. This is a statewide problem. We're between a rock and hard place, and we did not create that mess."
Supervisor Hildy Angius said she was disappointed that a balanced budget was not presented to the board. There was much talk about the sales tax last year to bring in more money for Mohave County Sheriff's Office, which is 30 percent understaffed.
It's hard to ignore the problem, which has been "kicked down the road" by the board, she said.
"I am not one to fall for government hyperbole, the sky is falling scenarios or threats, but we are in trouble," Angius said. "To me the most important job of any government jurisdiction is to protect its citizens."
She wants to see the quarter-cent sales tax go strictly for law enforcement, with $4 million going to the sheriff's office and the remainder going toward paying down PSPRS.
"I'll go even bigger and bolder," she said. "If we are really serious about our financial future and are really fiscal conservatives, I would suggest that we pay the $20 million from our unrestricted funds and then every year we pay ourselves back with the excess money from the quarter-cent rales tax."
Sheriff Doug Schuster said his department is in "dire straits" with an epidemic of trained officers leaving MCSO for other municipalities.
"I have people with 10 years of service tell me, 'I'm loyal, but if we can't get this fixed, I'm leaving,'" Schuster said.
Loyd said the county can always borrow $20 million to pay down the PSPRS debt at a lower rate than the $1.2 million annual payments, and keep the general fund balance to pay monthly bills of about $6 million.
"You don't want to get in a position where you can't pay your monthly bills," she said.