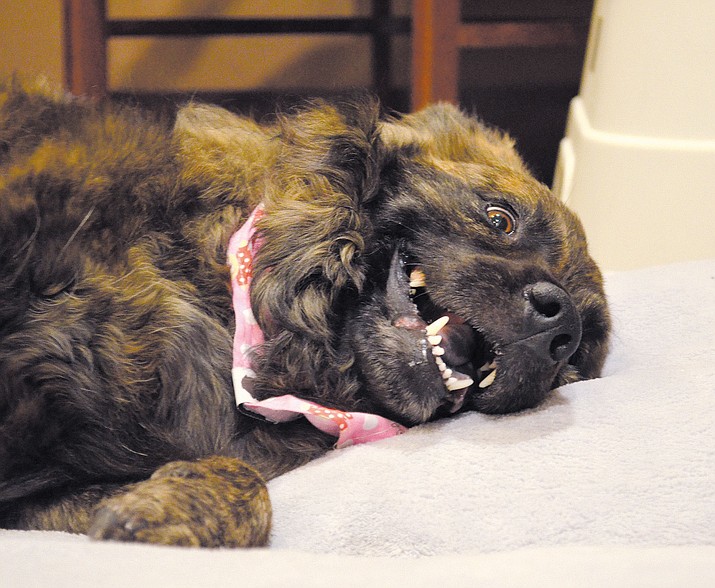 Photo by Aaron Ricca.

Originally Published: June 7, 2017 6 a.m.
KINGMAN – The newest resident of White Cliffs Senior Living home was laying on her back waiting for a belly scratch Monday afternoon.
Unless you work in an animal shelter or veterinarian's office, having a dog at work is usually a no-no.
Not for the residents and staff of White Cliffs memory support unit. Sadie, a 7-year-old Chow-retriever mix adopted from Western Arizona Humane Society last week, spends her day making rounds for a pat on the head or nap under a desk.

"We wanted a more homelike atmosphere," said White Cliffs Executive Director Rebecca Ratliff. "She provides a sense of calm and normalcy."
The memory support unit is home to 22 seniors with Alzheimer's disease and dementia. Sadie is a beacon of happiness for the residents – some oblivious to her presence, others glad to pet her. Ratliff said the residents are starting to realize that the dog is there to stay.
"I love him," said resident Don Smith. "If I owned him, I'd be sleeping with him or he'd be sleeping with me."
Not that Sadie wouldn't. She's been known to visit residents in their rooms. She's been at the facility for only one week, but has made plenty of friends.

"I've seen her walk up to someone napping, nudge her nose up in their hand, and wake them up," Ratliff said.
Ratliff coordinated Sadie's adoption through a Western Arizona Humane Society monthly animal visitation program.
"For the last five months, we've taken shelter dogs to White Cliffs to interact with the residents," said Lisa Snyder, WAHS operations manager. "They liked it so much, the staff decided memory support could support a dog full time."
Ratliff had to make sure the adoptee was big enough to maneuver between and avoid being crushed by walkers and wheelchairs.
"We called WAHS and told them what kind of dog we were looking for and they made it happen," said Ratliff.
Once Sadie was at her new home, she immediately took to roaming at will, visiting rooms and napping on chairs. Some residents take turns walking Sadie in the courtyard.
"She fits right in," said Lifestyle and Leisure Director Melissa Gonzalez, who was giving Sadie a good scratch on the ears and trying to help a resident learn to recognize Sadie.
It looked as though Sadie was blocking traffic as White Cliffs employees ran around checking on residents and delivering meals, but almost everyone that crossed paths with the dog had a smile on their face.
"I've noticed the atmosphere has changed," Ratliff said.
So far, WAHS only takes the dogs to White Cliffs, but Snyder said she'd be happy to contact other senior living facilities and invited them to call her.

"It's wonderful for the dogs and the residents," Snyder said. "It's a good program for everyone."
For more information about adopting a dog, contact WAHS at 928-753-2727.