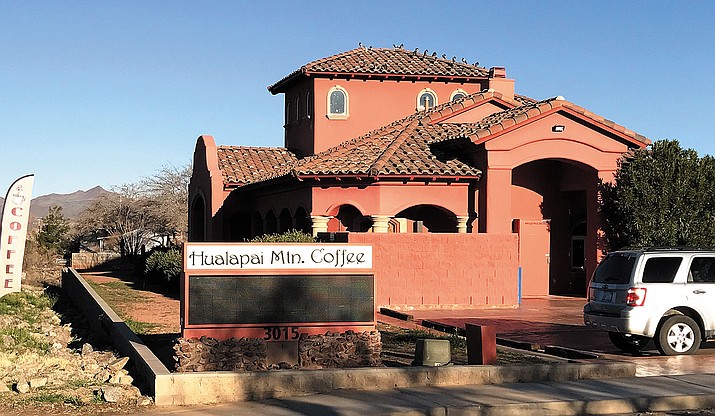 Photo by Aaron Ricca.
Originally Published: June 8, 2017 5:55 a.m.
KINGMAN – Hualapai Mtn. Coffee closed its business Tuesday about a year after launching the coffee shop at 3015 Hualapai Mountain Road in the former sales office of Fripps Mohave Homes.
"It is with extreme sadness that I have to make this announcement after taking on the role of operations manager on March 10," Gerry Paruch wrote in a June 4 Facebook post. "Since I started, I have seen this community support this establishment in more ways than I can recall or make mention."
Paruch was tasked with closing the operation this week and unable to provide the Daily Miner with further details on the closing, including the possibility of relocating to an area of town with higher traffic volume.
The coffee shop's business plan was created based on the needs of the community, and sales had tripled over the last few months, the post said.
Mike Wagner, real estate agent with Re/Max Prestige, said it's a shame to see the coffee shop close for the second time.
"As a Realtor doing business in the Foothills and Rancho Santa Fe, the convenience of having food and drink in the area is extremely important," he said. "Plus it was a great place to meet clients."
The coffee shop may reopen if the owners can find an investor. Inquiries can be sent to Paruch at hualapaimtncoffee@gmail.com.
Paruch encourages patrons to "like" Hualapai Mtn. Coffee's Facebook page, which would show investors the coffee shop's potential to reopen under new circumstances.
"After exhausting personal funds, countless hours of sweat equity, the simple reality is that without an outside investor, the staff and I are unable to continue," Paruch said.
It's been a tough area for restaurants to survive. Lombardo's Italian restaurant closed a few years ago, leaving the Grand Tuscan center at Eastern and Southern avenues nearly empty except for a dance studio.
Efrain and Justo Lopez opened El Paraiso Tacos and Burgers in late 2014, and have built a steady business. However, the Green Hole, which opened last year in the former Lombardo's space, is for sale.
More like this story