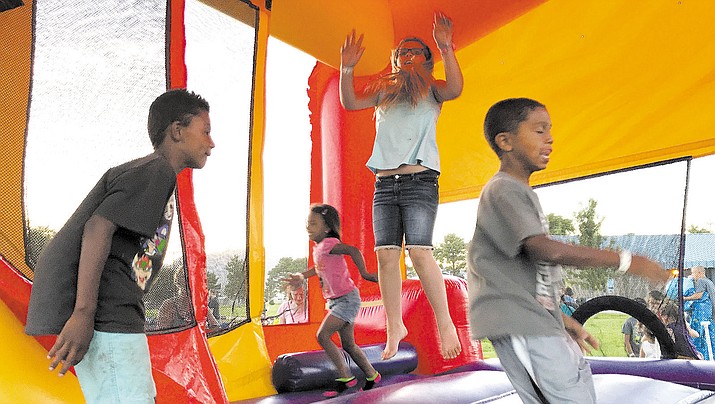 Photo by Aaron Ricca.

Originally Published: June 12, 2017 5:55 a.m.
Folks enjoyed a cool Friday night outside.
The City of Kingman's Family Carnival at Centennial Park attracted only about a quarter of what it usually does according to Parks and Recreation Superintendent Yvonne Cossio.
Little league closing ceremonies and the opening night of Beale Street Theater's production of "Peter Pan" were most likely stealing potential carnival attendees. What families were at the park were totally engaged in bounce castles, mini-golf, basketball and a kid-sized Jenga game.
As the sun set, "Angels in the Outfield" was projected on the side of the racquetball court for Centennial Park's first Movie in the Park night.
Meanwhile halfway across town, about 45 runners were gearing up for Kingman Regional Medical Center's "Howl at the Moon" 5K run and walk at the KRMC Hualapai Campus.
Between the full moon and glow sticks lighting the course, runners made a leisurely jaunt through the desert. Some even brought their dogs.
There will be two more races at KRMC-HMC this summer: The first "Monsoon Madness" 5K run and walk August 19 and the Kingman Desert Dash August 26.