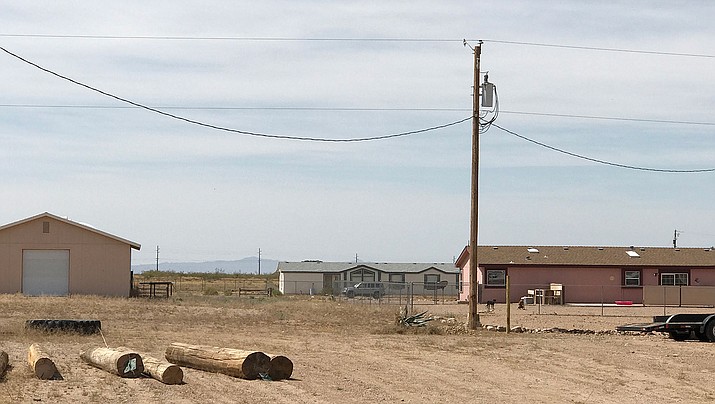 Photo by Hayden Merrill.

Originally Published: June 12, 2017 5:55 a.m.
KINGMAN – Some residents of Golden Valley's Walnut Creek Estates received a letter that details a threat to their rural way of life.
"We all moved out past all that industrial, but now they're putting us in the middle of it," said Walnut Creek resident Kasey Darnell.
Scot Industries, a piping company with locations all over the United States, have recently purchased a parcel of land near Walnut Creek where they plan to construct a new facility.
"The Area Plan will be changed from a suburban land use to a heavy industrial land use," said the letter from KTH Consulting received May 29. "The change is necessary to allow for the development of a manufacturing, honing, warehousing and distribution facility for Scot Industries."
Scot Industries has been around since 1949. They are a company that supply specialty tubing products, and they have continued to expand on their successes over the years.
"Scot has reinvested heavily in new plants, equipment, tooling, and inventory to assure our continued industry leadership," said the Scot Industries website. "The Scot investment, combined with Scot developed technology, will extend our future leadership position in I.D. finished tubing and chrome-plated tubes and bar."
While many of the residents of Walnut Creek do not necessarily have a problem with Scot Industries as a company, they are concerned that the mere presence of a new facility built so close will bring other heavy manufacturing companies to the area.
"If they build it, more will come," said resident Lia Mitchell. "We're going to get all of the smells, all of the noises."
Residents are also concerned about the use of valuable resources by potential new companies, such as the use of Oatman Highway by the companies' delivery trucks. With Oatman Highway being the main road leading in and out of Walnut Creek, concern has risen over the safety of drivers.
"With only two small lanes, it becomes a hazard to people driving on the road to have those big trucks," Darnell said. "I'm just looking down the road 10 years, how many companies are going to have vehicles using the highway?"
But Oatman Highway isn't the only concern for residents. Both Darnell and Mitchell voiced concerns for the potential major usage of water and other natural resources by future companies.
"Do they know what the environmental impact will be by having heavy industrial here?" Mitchell asked.
Because Scot Industries currently runs out of a location at Kingman's Industrial Park, residents are questioning why they cannot expand in the same area; an area that has already been set aside for heavy industrial.
"I wonder what the KAA is losing," Darnell said. "Are they not catering to Scot and helping with their growth? I'm sure they don't want to lose a big company like that."
The letter from KTH Consulting regarding the rezoning did offer a way for the residents to fight the rezoning however.
"If 20 percent of the property owners by area and number within the 300-foot zoning area file protests to the proposed change, the change shall not be made except by a three quarter vote of all members of the Board of Supervisors," the letter said.
The issue with this statement is that according to the accompanying map that shows the area and measurements, no residents are within the 300 feet required to protest.
"It's some kind of shady deal, they have hid so much from us," Mitchell said.
Residents have taken action, and have created a petition to deliver to the Planning and Zoning Commission that shows the community's support for keeping the area residential. The petition currently has dozens of signatures, and some residents are creating detailed presentations to give to the Board of Supervisors expressing their concerns.
"We're a tight knit group," Darnell said. "Not all of us get along here, but when it comes to this, we come together."