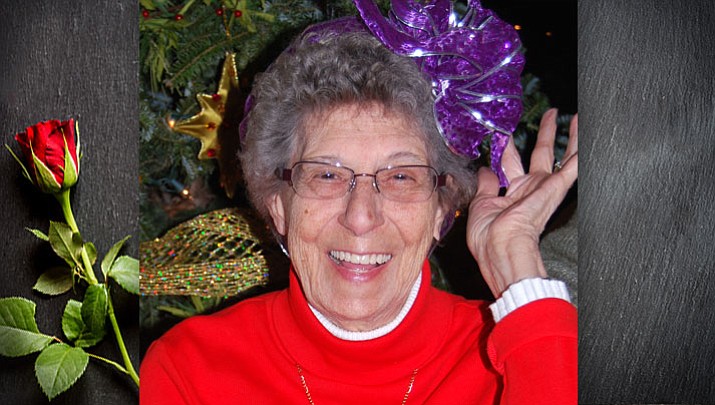 Originally Published: June 14, 2017 5:59 a.m.
C. Lorraine (Frazza) Leenhouts passed peacefully with family by her side on Sunday, June 4, 2017.
She was born in Baton Rouge, Louisiana and in her early childhood was raised in New Orleans. She first arrived in Kingman in 1947 with her husband, David Frazza, had her first two children here, got sick, moved east to Syracuse, New York and returned to Kingman in 1977.
Lorraine was preceded in death by her first husband, David, after a 58-year marriage, and her daughter-in-law, Bunny. She is survived by her husband, Bert, children; Donna, Mike, Delores, David, Diane, Debbie, Missy and their spouses, and her stepdaughter, Sylvia. She also leaves as part of her legacy 17 grandchildren, 19 great-grandchildren and one great-great-grandson, as well as a multitude of nieces and nephews.
Lorraine was a Silver Life Master Bridge player and was quite competitive. She directed the local Duplicate Bridge Club for over 30 years. She enjoyed traveling to Bridge clubs and tournaments in the region with her husband and partner, Bert.
Words from family members that describe her include; spunky, always a lady, a talented cook, avid fisherwoman, strong-willed, with a beautiful smile. She was adventurous, meeting up with her daughter, Donna and son-in-law, Dan, who sailed around the world.
She rode an elephant in Thailand, drank Kava with a village chief in Fiji, snorkeled in the Bahamas, danced with Greeks, and visited the Holy Land inIsrael.
She would spend time with each of her children and their families who are spread all over the U.S. Her home was always open to one and all, and you never left her table hungry. In the early years of her marriage to David, she handmade most of the clothes for herself and her children, but probably the most important thing in her life was her thirst for knowledge. Always reading, studying bridge, working crossword puzzles – she never stopped learning.
Family was her life. Even as her health declined and her memory started to fade, she still remembered the names of all her children.
Mom to some and Grammy to most, you will always be a cherished part of each and every one of us. Parts of you will always be in our hearts. Rest peacefully. All our love, your family.
There will be a Celebration of Life held for Lorraine at a later date.