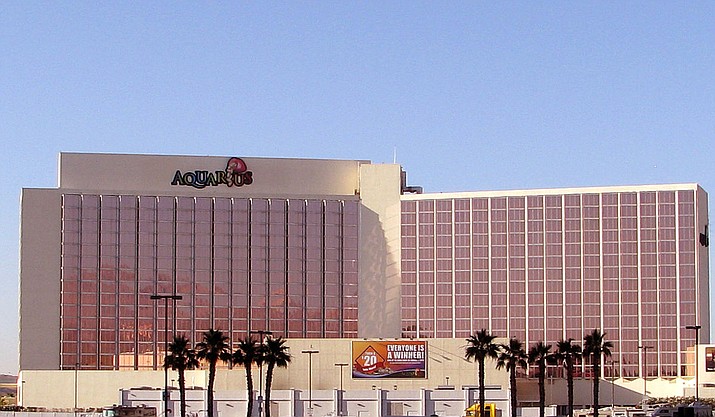 Originally Published: June 16, 2017 5:55 a.m.
KINGMAN – The Aquarius Casino Resort in Laughlin is one of four properties acquired Monday by Las Vegas-based Golden Entertainment, owner and operator of PT's Pubs chain of taverns.
Golden Entertainment reportedly paid $850 million to acquire the casinos from American Casino and Entertainment Properties, with the centerpiece being the iconic Stratosphere Tower that was developed in 1996 by Las Vegas marketing guru Bob Stupak.
At 1,150 feet, the Stratosphere is the tallest freestanding observation tower in the United States and is known for its thrill rides such as the Sky Jump.
Other properties acquired by Golden Entertainment are both Arizona Charlie's on Decatur Boulevard and Boulder Highway.
"This is a transformational event for our company, creating a significant gaming portfolio centered around Nevada-based casinos," Blake Sartini, chairman and chief executive officer of Golden Entertainment, said in a company statement.
"We believe the American properties are poised to benefit tremendously from anticipated continued economic growth in Nevada, particularly from the continued strength in the Las Vegas market."
The Aquarius, which opened in 1990 as the Flamingo Hilton Laughlin, is the largest hotel in Laughlin with 1,907 rooms in two 18-floor towers.
The casino encompasses more than 57,000 square feet with some 1,200 slot machines, 30 table games and a race and sports book. The property also has a business center, fitness center, pool and tennis courts.
The Aquarius Outdoor Amphitheater has a 3,300-seat capacity for concerts, and a smaller Aquarius Pavilion for stage shows and musical reviews.
The hotel changed its name to Flamingo Laughlin in October 2000 when Hilton broke off with Bally Entertainment Corp.
Harrah's Entertainment, which acquired Bally Entertainment, sold the resort to American Real Estate Partners for $170 million in 2006, and the property was renamed Aquarius. It was later acquired by Whitehall Street Real Estate Partners, a division of Goldman Sachs.
Golden Entertainment, formed in 2015 with the merger of Lakes Entertainment and Golden Gaming, owns more than 50 PT's taverns throughout Southern Nevada and is the state's largest slot route operator.