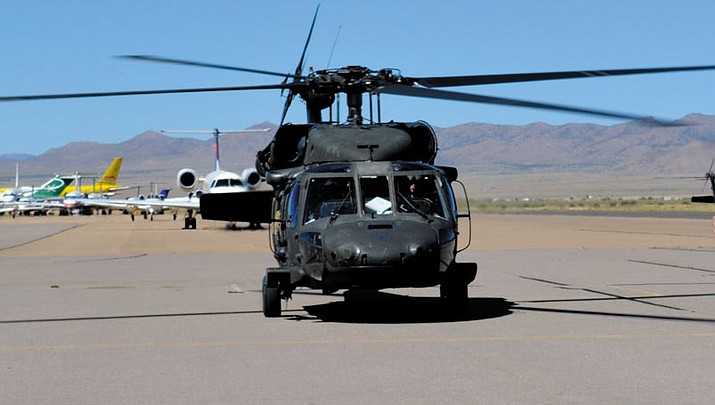 Photo by Aaron Ricca.

Originally Published: June 18, 2017 6 a.m.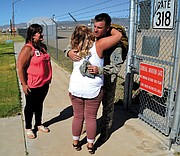 A 2003 Kingman High School graduate paid a visit to his hometown in a way most can only dream.
Chief Warrant Officer 2 Kevin Burcham, 32, piloted one of 10 U.S. Army UH-60 Blackhawk helicopters into the Kingman Airport Thursday afternoon for a refuel. The choppers and their crews from the 4th Infantry Division, 4th Combat Aviation Brigade, 4th Aviation Regiment, 3rd Battalion's Bravo Company from Fort Carson, Colorado were flying to a training mission in California.
"This is kind of exciting," Burcham said. "It's one of those weird things not a lot of people get to do."
Burcham was a three-year KHS varsity letterman in soccer and went on to play collegiate soccer at Chandler-Gilbert Community College. He had briefly moved back to Kingman and worked at the airport with a roommate. The surroundings piqued his interest in aviation and in 2008, he decided to enlist in the Army as a helicopter mechanic.
While filing the tons of paperwork at the Military Entrance Processing Station in Phoenix, one of the recruiters made a quip about how lucky he'd be to be flying in a helicopter. Burcham was surprised.
"I thought I'd just be turning wrenches," he said. "I didn't know I'd be able to fly."
Each Blackhawk has a three- to four-person crew: a pilot, co-pilot and one to two crew chiefs. Burcham started as a mechanic at Fort Lewis, Washington and worked his way to the crew chief slot – a job that gets plenty of flight time.
"At that point, I fell in love with flying," he said.
In 2014, he made the jump to warrant officer and headed to flight school at Fort Rucker, Alabama.
Burcham was one of the architects charting this week's flight plan. Logistics originally would've landed the choppers in Page, Arizona for the night, but the hotel plans fell through. Burcham walked into an office while other officers were making contingency plans and overheard them mentioning the possibility of a stop in Kingman. He told them he had relatives in town, and the course of action changed.
"It was like, 'Game on!'" Burcham said.

Most of his family was at the airport Thursday to watch the Blackhawks land. His aunt, Deanna Shaw, and cousin, Kendra Shaw, hung out after the chopper crews headed to their hotel rooms.
Other family members had to tend to the barbeque Earl and Mary Bender, Burcham's grandparents, were hosting for some of the pilots and soldiers.
The ladies were impressed.
"It was cool for me," said Kendra, who had once seen her brother-in-law's Navy ship pull into port. "I've never seen the helicopters land."
Burcham grew up in Kingman, and his parents, Margaret and Keith, lived here until 2005 before moving to Wisconsin. When Burcham got his pilot's license a few years ago, he chartered a helicopter and took them for a ride.
"It was the coolest thing ever," Margaret said.
The parents got to sit in a Blackhawk when Burcham graduated from Army flight school.
"I'm very proud of him," Margaret said. "I still worry about him all the time. He's got a good head on his shoulders."
She had no idea what she would've said if she watched him land the Blackhawk in his hometown.
"Words would never express that," Margaret said.
Kevin lives in Colorado Springs, Colorado with his wife, Michelle, and 1-year-old daughter, Sydney. He has two other children living in Tennessee.

His Kingman stay was short. Duty calls.
"I didn't do anything crazy," he said. "Just had a nice home meal, barbeque style."
Burcham's dad had only two words for his son: "Stay safe," Keith said.