Photo by Beau Bearden.
Originally Published: June 18, 2017 6 a.m.
KINGMAN – Daniel Carlson didn't know what to expect when he created a new youth football league in Kingman. The President of the Kingman Rebels Youth Football League quickly saw that uncertainty turn into optimism.
"When we started this, we were worried about what kind of reaction we'd have from the community," Carlson said. "But it's been super positive. Kingman has really jumped behind us on this, and we have some of the best coaches and parents involved."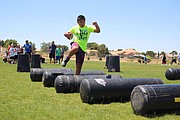 The support was clearly evident Saturday during practice at White Cliffs Middle School, as a number of children ages 5-11 were taking part in drills with their families watching from the sideline.
The league consists of four different teams, with two instructional squads and two competitive teams starting at the age of 8 years old.
"Depending on a kid's experience level and size, he can play virtually in any category," Carlson said. "If we get a kid who's really raw, we'd like to get him warmed up to football at an instructional level. He can get acclimated to football without coming in and being off put by the speed and contact of competitive football."
While the league is filling up quickly, Carlson said they are still taking signups for the next 5 weeks as they continue to do pre-conditioning workouts. There is a waitlist for children under 8 years old, while those 8 years or older are more likely to have a spot on a team.
With that said, there is obvious competition with the intra-city Kingman Youth Football League. Carlson said KYFL is a "great program," but discussed a few reasons why the Kingman Rebels provide a great experience.
"We have a chance to go play in Vegas for district finals and conference championships, and maybe even a national title down in Florida," he said. "They're able to qualify for scholarships through American Youth Football and the safety that AYF strives for is second to none."
With that said, the Kingman Rebels could have easily extended its league to 15 years old, but Carlson didn't want to take away players from junior high football.
"I think if someone has the opportunity to go play competitive school ball, that they should take that," he said. "This is youth football and I believe in this program. I believe that we'll have a lot of longevity here, but when a kid hits seventh grade, he should go out and play school ball and experience that because that's the next level that we're trying to prepare them for here."
The Rebels will be hosting a football camp from noon to 5 p.m. on July 15-16 at Centennial Park. Cost is $40 for non-Rebels and $25 for Rebels. Proceeds benefit the Rebels Youth Football League.
"We rented out Centennial Pool on the last day and we're going to have the water slide and everything like that," Carlson said. "Everybody is welcome to come out – brothers, sisters – join the pool party after the camp."
For more information on the Rebels, contact Carlson at 928-530-2559.