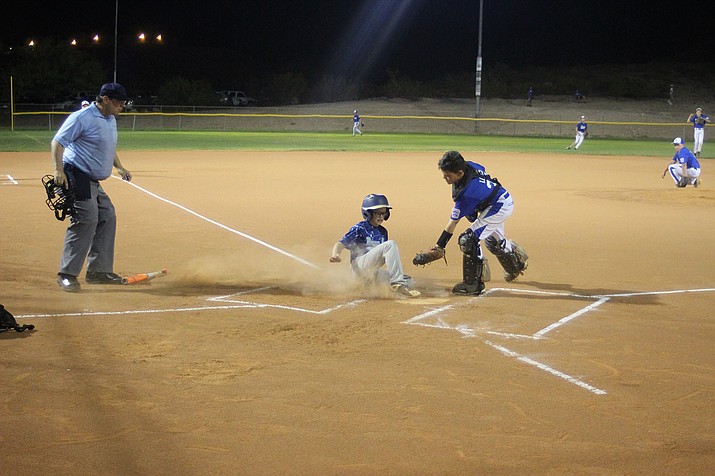 Photo by Beau Bearden.
Originally Published: June 22, 2017 1:46 p.m.
KINGMAN – For an inning and a half, the anticipated matchup between Kingman North and Kingman lived up to expectations during the semifinals of the 9-11 All Star District 9 Tournament at Southside Park.
Photo Gallery
Kingman North vs. Kingman June 21 Southside Park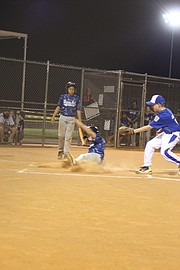 The Kingman North 9-11 All Stars defeated Kingman 9-11 All Stars by a score of 11-1 Wednesday night at Southside Park. Photos by Beau Bearden.
However, that quickly changed in the bottom of the second inning, as Kingman North capitalized at the plate and cruised to an 11-1 win in four innings due to the run-rule.
"We did the same thing we did Tuesday night. We came out with a lot of discipline at the plate," Kingman North manager Chad Benson said. "That's huge. We hit the ball. Nick Kennedy had another home run and Brodie O'Banion had an inside-the-park home run. In this division, it really comes down to pitching, catching and hitting."
Kennedy's two-run shot came in the first inning and gave Kingman North a 3-1 lead. O'Banion then started off the second inning with his homer and another two runs increased Kingman North's advantage to 6-1.
It didn't get much better for Kingman in the third frame.
Kingman North sent 10 batters to the plate and scored four more runs, thanks in part to seven walks – with two via hit by pitch.
"Our pitching wasn't as good as we wanted, but credit to that team," Kingman manager Matt Klenke said. "That's a good team – hitting-wise, pitching-wise. They just flat out beat us."
Kingman North didn't turn to just one pitcher to cruise to victory, as it instead sent three different hurlers to the mound.
Keygun Field started the game and went 1 2/3 innings before giving way to Kennedy, who pitched 1 1/3 innings for Kingman North. Reilly Feil then closed out the game, striking out two batters in 2/3 of an inning. The trio combined to throw a two-hitter with 10 strikeouts.
"Good pitching is always going to stop good hitting. Period." Klenke said. "We ran into three good pitchers that threw strikes and threw hard. That was the difference. Their pitching was good. All the credit to Chad (Benson) and that team."
Klenke wasn't the only one to offer praise to his opponent, as Benson also gave Kingman some praise.
"Props to Kingman, I give them a lot of credit," he said. "That's a well-coached team for sure. There are quality coaches over there and quality kids without a doubt. They played hard and unfortunately, we came out on top."
There is a possibility that the two squads could meet again in Friday's championship game at Southside Park Field 4. Kingman faces Lake Havasu City at 8 p.m. Thursday, after it defeated Blythe, California Wednesday, 14-11.
The Kingman-Havasu winner moves on to play Kingman North at 8 p.m. Friday. Should Thursday's winner beat Kingman North Friday, the teams will play a winner-take-all game at 8 p.m. Saturday.
Benson is hoping to see some familiar faces.
"I've said it once and I'll say it again – I want to see Kingman in the championship," he said. "They're a good game. They're our hometown friends and if they're in the championship, that means they played well. Unfortunately, somebody has to win and somebody has to lose. That's part of it. I'd like to see them back in the championship."