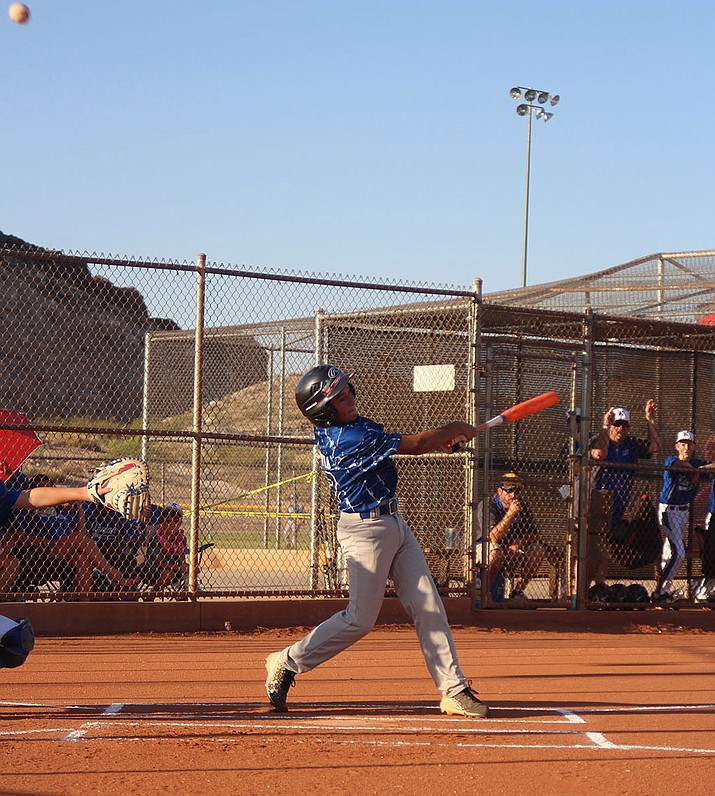 Photo by Beau Bearden.
Originally Published: June 23, 2017 8:51 a.m.
KINGMAN – The Kingman North 10-12 All Stars found themselves in a tough spot Thursday night during the District 9 Tournament. Kingman held a six-run advantage, and it appeared the momentum had shifted in its favor.
Photo Gallery
Kingman North vs. Kingman 10-12 All Stars June 22 Southside Park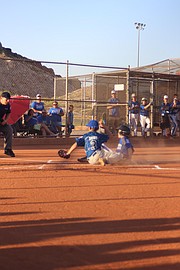 The Kingman North 10-12 All Stars defeated Kingman 10-12 All Stars in extra innings by a score of 12-9 Thursday at Southside Park. Photos by Beau Bearden.
Kingman North put that idea in the rearview mirror, scoring nine unanswered runs to defeat Kingman 12-9 in seven innings at Southside Park.
"They were resilient, they hung in there and they battled back," Kingman North manager Casey Gordon said. "That's the kind of team that you want. That's the kind of team you need to go anywhere in life. It was just really good that they pulled it out."
Kingman North's come-from-behind victory had a number of heroes, highlighted by Arthur Valdivia who hit a two-run double in the top of the seventh and then later scored to account for the final tally.
Defensively, Kingman North pitcher Gauge Short came on in relief with one out in the bottom of the second and struck out five Kingman batters in 3 2/3 innings of work.
"Gauge Short came in and he just shut us down," Kingman manager DJ Dunn said. "Gauge was lights out tonight. There was nothing we could do. We couldn't put the bat on the ball against him."
That wasn't an issue for Kingman in the second inning though, as it sent 12 batters to plate and scored six runs to take a 9-3 advantage.
"The second inning was phenomenal, it was absolutely amazing," Dunn said.
Unfortunately, that was all the offense Kingman could muster down the stretch despite having a number of opportunities with the bases loaded.
Kingman North, on the other hand, started its rally in the third inning when Noah Velazquez turned a triple into a home run when Kingman committed a throwing error. It was Velazquez's second run of the game after a two-run homer in the first frame, and it jump-started the offense.
Kingman North would add two more runs in the third to cut its deficit to 9-6 and then added a run in the fourth and two more in the fifth to tie it up at 9-9.
Kingman North closer Trenton Logan came on in the bottom of the sixth and struck out three of the five batters he faced. That set up Valdivia to give Kingman North the lead after back-to-back singles by Jordan Shoopman and Logan.
With it being a double-elimination tournament, Kingman North could still see Kingman in the championship game and Gordon is looking forward to that possibility.
"I told Kingman South I hope I see them at the end of this tournament," he said. "I hope they go down and win out. I hope we also can win out, so we can meet each other in the championship. It would be awesome."
However, Kingman North has to take care of business against the Lake Havasu City-Needles winner at 8 p.m. Friday before that can happen.
Kingman, meanwhile, drops into the consolation bracket and faces the Lake Havasu City-Needles loser at 6 p.m. Friday.
"The tournament is still young," Dunn said. "I believe it was coach Gordon who said that no matter what, both teams have a shot. The boys fought tonight in a seven-inning game. They all played their hearts out. So we'll pick ourselves up, dust ourselves off and we'll be back (today)."