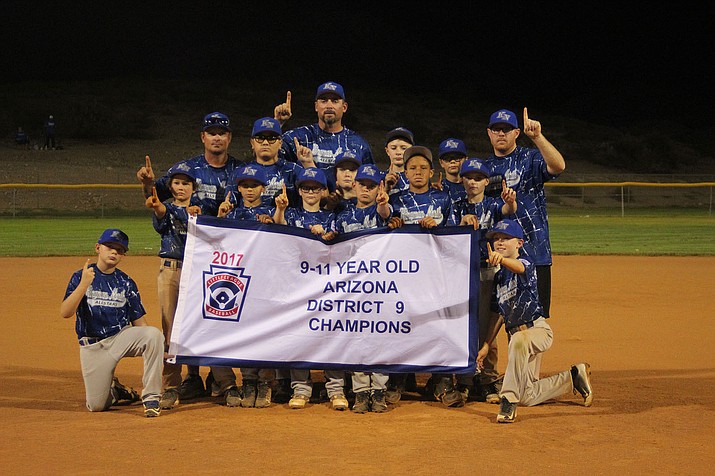 Photo by Beau Bearden.
Originally Published: June 24, 2017 8:57 a.m.
KINGMAN – It's not often a team sends 27 batters to the plate in one inning. Even more unlikely is scoring 23 runs in one frame.
Kingman North accomplished both feats Friday night in a 23-0 win over Kingman in four innings due to the run-rule during the 9-11 All Star District 9 Tournament Championship at Southside Park.
Photo Gallery
Kingman North vs. Kingman 9-11 All Stars June 23 Southside Park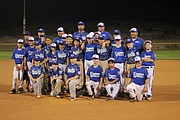 The Kingman North 9-11 All Stars won the District 9 Tournament Championship Friday night at Southside Park. Photos by Beau Bearden.
"I don't think I've ever had an inning where we scored that many runs," Kingman North manager Chad Benson said. "But it doesn't come down to runs on a scoreboard. It's not about that. It's just about quality coaching and quality at-bats – swinging at strikes. When you do that, you're going to hit the ball. … At the end of the day, it's about learning, getting better and having some fun."
Kingman North connected on 13 hits in the big inning and its Nos. 3-7 hitters – Keygun Field, Nick Kennedy, Reilly Feil, Brodie O'Banion and Casen Short – each scored three runs to lead the offense.
Kingman didn't help its cause though, as it yielded 11 walks in the first frame – including two via hit by pitch.
Despite the tough loss, Kingman manager Matt Klenke was still proud of his team's effort to advance to the championship game after it defeated Lake Havasu 20-12 Thursday night.
"This group played their hearts out for four months to get to this game," he said. "It's heartbreaking, but congrats to Kingman North. We lost to the best team in the tournament. Best of luck to them at state. My boys gave it their all four nights in a row."
Klenke wasn't the only one to extend a respectful gesture to his opponent, as Benson returned praise to Kingman and all of its supporters.
"Hats off to Kingman South – just a class act right there," Benson said. "Those coaches, kids, parents and all the fans – everyone was very respectful. From a coaching and citizen perspective, I really appreciate that fact and I think that's absolutely awesome."
Kingman North's bats may have won the game, but it also played a great game on defense. Not only did Kingman North strike out six of the 18 batters it faced, but it also made a number of outstanding plays on the field.
"They always say offensive hitting wins ball games and defense wins championships," Benson said. "Our defense was pretty good as well. We knocked the ball down and we turned a double play – it was impressive. We work on all that stuff constantly."
With the District 9 Tournament Championship, Kingman North advances to the state tournament in Show Low. Benson knows Kingman North wouldn't be making the trip without the support of the fans and his coaching staff.
"Assistant coaches Steve Petrauschke and Jerome Heitzman deserve some recognition," Benson said. "It makes a big difference when you have quality coaches that teach good baseball and invest in the lives of those kids. The quality of coaching that those guys give helps give those kids self-confidence, teaches them respect and how to work as a team."