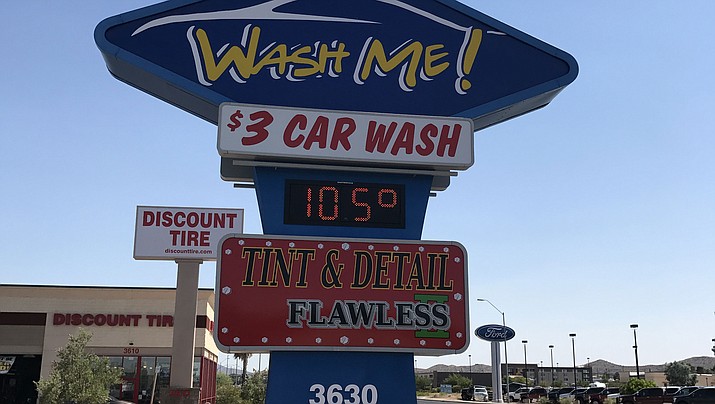 Photo by Aaron Ricca.

Originally Published: June 25, 2017 6 a.m.
As hands sear at the touch of hot steering wheels, sandals stick to sidewalks glued by melted gum and temptations to bake cookies on dashboards swarm the imagination, we pass daily arrogant reminders of how hot Arizona summers are.

The heat is at halftime now, but some folks might be questioning how accurate the temperature readouts on LED and electronic billboards near local businesses are. Social media snapshots of dashboard displays and smartphone screenshots of weather apps only rubbed in the misery.
According to a National Weather Service sensor located in north Kingman, the temperature peaked at 108 degrees at exactly 3:23 p.m. Wednesday. That's their sensor. Other thermometers around town read higher.
The soul-crushing heat that tormented Kingmanites all week died down by the time random – and unofficial – temperature measurements of electronic displays were taken by the Daily Miner between 3-4 p.m. Thursday.
The following readings were taken from the billboards, the temperature display inside a 2015 Chevy Cruze and a Weather Channel iPhone app. The elevation of each business, according to www.veloroutes.org, is also listed.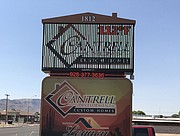 Start point: Wash Me Car Wash at 3630 Stockton Hill Road; Sign: 105; Car: 110; App: 105; Elevation: 3,421.
Mission Bank at 1370 E. Northern Ave. near Stockton Hill Road; Sign: 103 Car: 109; App: 105; Elevation: 3,483.
Cantrell Development, Inc. at 1812 Stockton Hill Road; Sign: 112; Car: 108; App: 105; Elevation: 3,476 ft.
Mission Bank at 2439 Hualapai Mountain Road; Sign: 109; Car: 108; App: 105; Elevation: 3,552 ft.
"Ours is off," said Tom Frank, a home designer for Cantrell Development. He said he'll have to call Legacy Signs and Iron, the sign's builder, to have it recalibrated.
What does that all mean and how do the parts fit together?
Guts of the Signs
Young Electric Sign Company Bullhead City Branch Manager Michael Bell briefly described the inner workings of the different signs. Yesco built the signs at both Mission Bank locations.
"There is a time and temperature probe mounted inside those units," Bell said. "All they do is tell temp and time."
The Electronic Messaging Centers, like the billboard on Andy Devine Avenue at the bottom of El Trovatore Hill, are more complex and becoming more economical for many businesses, such as the EMC at Cantrell Development.
"Those billboards are more sophisticated," Bell said. "There could be a (temperature) probe mounted to the sign or the sign could be programed."
He was referring to the remote locations where sign owners can customize graphics, advertisements and even the temperature itself in order to not scare off potential tourists.
As far as calibration goes, once those probes are installed, Bell said they run well on their own. There are other factors as to why readings might vary. Some of the signs have outside probes that relay information to the display.
"If a probe is mounted directly in the sun, it's going to read hot," Bell said. "It's the same concept with a car. If it sits in one spot for too long, you're going to be cooking."
Car Sensors
Most new cars, including the Chevy Cruze, have one or multiple ambient air temperature sensors depending on the manufacturer, make and model of the car.
According to Jeremy Salveson, service advisor for Kingman Chevrolet Buick, most Chevy sensors, including the Cruze, are located in the front bumper about 18 inches off the ground and protected from above and below by the bumper and an air dam. The outside air temperature reading displayed inside the car should be accurate, regardless of driving on hot asphalt or dirt road.
"The sensor isn't close enough to the ground to make a difference," Salveson said.
Don't immediately assume the outrageous temperature you see when getting back into your car is accurate. Those sensors absorb the heat when sitting for long periods in a parking lot.
"It takes about 15 minutes to reset," said Walter Greener, parts associate for Kingman's Anderson Ford.
The App
The Weather Channel iPhone app showed the same temperature at all four signs. Not enough information could be found to explain if the app is updated in certain increments or if it is the overall outlook for the community in that time frame.
The Science Behind Variations
Different sensors read differently in different parts of town. That doesn't necessarily mean they're inaccurate.
According to National Weather Service Meteorologist Alex Boothe, factors such as exposure to sunlight, shade and moisture all play into the readings.
Although not so much in uptown Kingman, elevation contributes to different readings.

"Readings can be very different in communities where there are large variances of elevations," Boothe said.
There is a 131-foot difference between the two Mission Banks, also both the high and low elevations of the experiment.
All measurements were taken within about five miles between the start and end points, with the four signs located within about five meters of major road arteries. The concreate and car exhaust may have contributed to minor temperature variances.
"Sometimes the instruments just need to be calibrated," Boothe said.
NWS uses far more accurate sensor networks to track local weather and atmospheric measurements, including temperature, wind speed and rainfall.
They have one automated surface observation system sensor at the Kingman Airport and another sensor near the Mohave County Parks Department on Sunshine Drive.
Numerous other Automated Remote Weather System sensors are spread through Mohave County.
"We use the ARWS sensors for data during wildfires" Boothe said.
To see the NWS readings yourself, click on http://www.wrh.noaa.gov/map/?obs=true&wfo=vef.
Overall, when it's hot, it's hot. It is summer in Arizona, and once the mercury – or digital readout – breaks 100, life is going to be warm.
The best we can do is stay indoors, hydrated and wish for a poolside vacation.