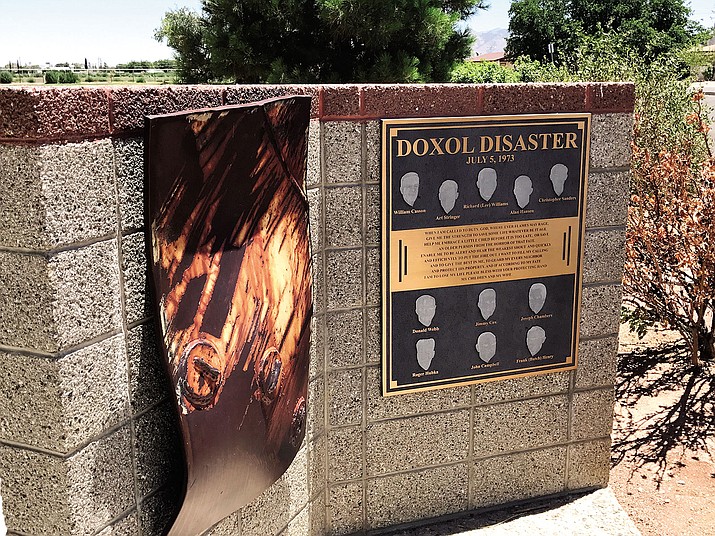 Photo by Hayden Merrill.

Originally Published: June 28, 2017 5:58 a.m.
KINGMAN – July 5 will mark the 44th anniversary of the day 11 Kingman firefighters tragically lost their lives in the Doxol explosion.
The Doxol explosion is considered one of the worst firefighting disasters in Arizona history. During a transfer of propane from a railcar to a storage container, a small leak was noticed by one of the railroad workers present. While attempting to fix the leak, a wrench was struck against another piece of metal, sparking and, in turn, igniting a fire from the leaking valve connection.
Volunteer firefighters responded and attempted to cool down the railcar in order to avoid an increase in pressure. However, just as orders were given out to push back the onlookers, the pressure became too much and the entire railcar ignited, causing a massive explosion. The explosion caused a shockwave that was heard and felt five miles away, and it created a fireball with an estimated diameter of 1,000 feet.
Three firefighters were killed instantly, while eight more would succumb to their burns and injuries just a short time later. Along with the tragic deaths of the 11 firefighters, one state trooper and a railroad worker, over 90 onlookers were burned or injured from debris and flames shooting out hundreds of feet from the explosion.
In remembrance of those who lost their lives on that tragic day in 1973, Lee Williams High School has organized a race they call the, "Never Forget 11" 5k.
The race is scheduled to begin at 6 a.m. Saturday. The start line will be at the site of the explosion, the dirt lot next to the Martin Swanty dealership on Andy Devine.
The race will end at Firefighter Memorial Park, where the memorial to the 11 firefighters is located.
Registration for the event is currently taking place and can be done at either Lee Williams High School, or by visiting www.active.com. The cost for registration is $25.