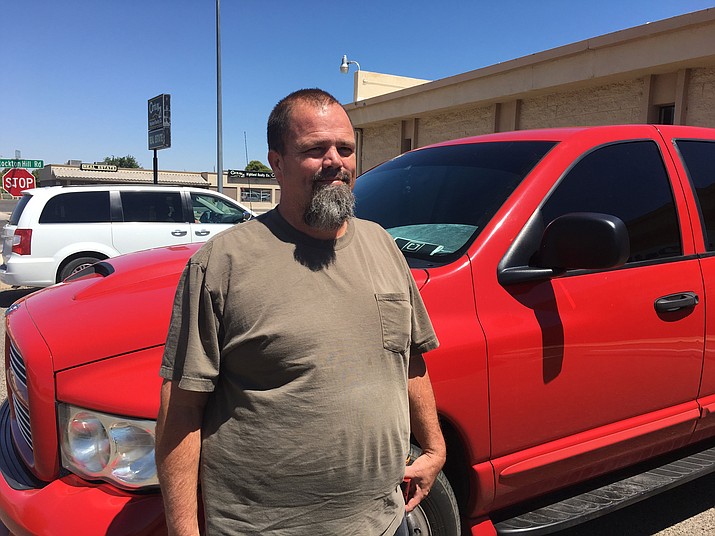 Photo by Hubble Ray Smith.
Originally Published: June 29, 2017 5:57 a.m.
KINGMAN – Damon Jaeger wants to get the word out that he's one of a dozen Uber drivers providing alternative transportation for folks around town.
Jaeger, who started driving for Uber in April, said he doesn't get a lot of locals using the Uber application to request rides. About three-fourths of his calls are from out-of-towners, some of them with broken-down vehicles, others staying overnight and tired from driving 12 to 14 hours.
"The biggest thing is I want residents to know what Uber is and that we're in town," said Jaeger, who worked in the casino sign industry before moving to Kingman six years ago.
"One guy I picked up at the bar said he knew about Uber, but he didn't know they were here. I get a lot of that."
One of Uber's advantages is the short time in which customers are picked up, Jaeger said. He can usually be there in two to three minutes, compared with lengthy waits for taxi cabs and buses.
Uber bases its fares on mileage and time, and most fares range from $4 to $10 around town, Jaeger said. He once took someone to Las Vegas for $200.
The app-based transportation company that started in Paris has expanded to 575 cities in 65 countries, and has sparked controversy among taxi drivers in cities such as Las Vegas, which tried to ban the service. Uber drivers have been attacked by taxi drivers in Europe.
Uber recruits drivers with ads about earning $35,000 a year or more, depending on how much you're willing to drive, being your own boss and setting your own schedule.
Jaeger said business has been slow with so many drivers joining Uber's network. On a good day, he'll make $50 to $75; other days he's lucky to make $20.
It could get more competitive for Uber drivers with the launch of K-Car, which is based in Prescott Valley and now has six cars in Kingman.
K-Car offers flat-rate pricing so riders can be sure of the cost for each ride, and each driver is required to pass extensive background investigations.
Ron Gardner, operations manager for All City Kokopelli Transport, said his company has carefully developed an organization that excels in the industry for both private-pay transportation as well as non-emergency medical transportation for doctor appointments, dialysis treatment, wheelchair transports and hospice.
"We have done so by choosing friendly and knowledgeable dispatchers, as well as being very selective about the drivers we staff," Gardner said.
"We do that by stringently screening all our drivers, then training those selected to partner with us, and finally providing them with vehicles that are meticulously maintained for cleanliness and safety."
Gardner said his focus is on establishing K-Car as the best transportation company in Northern Arizona.
Christina Mills was the first Uber driver in Kingman, but it wasn't easy getting started. She was wondering why she wasn't getting ride requests when she found out the app wasn't working.
She contacted Uber's headquarters in San Francisco, but wasn't able to rectify the problem until after the Daily Miner published her story in September.
"It's pretty good money if you do it steady," Mills said. "I just assumed it was nationwide. I didn't realize it was trickling down from urban areas to smaller towns."