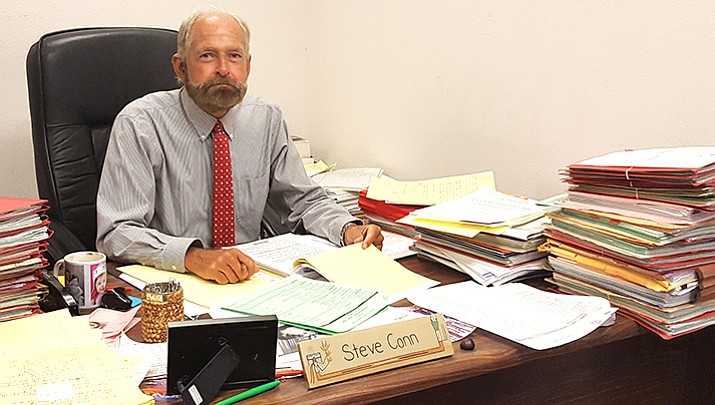 Photo by Claire Whitley.

Originally Published: June 29, 2017 6 a.m.
People might describe his bench attitude as sarcastic, but the Honorable Judge Steven Conn said he just doesn't like to be overly serious.
"Coming into court can be intimidating," Conn said. "There are rules that are not understood by anyone who isn't a judge or lawyer. Then there's this person sitting above everyone else."
After 40 years in the Mohave County courts and about 15,000 cases, Judge Conn is retiring, something he waited to do until it was the last possible day. Conn, who turns 70 Sunday, has reached the maximum age for retirement. Friday marks his last day at Mohave County Superior Court and his last day serving as judge of the criminal court.
"I'm not happy about it," Conn said. "I feel I could do this for a number of years still. But I might appreciate some free time. A lot of free time."
Conn said there is more going away excitement than he would want. There is a formal gathering for him Friday at the courthouse, and his children, who are visiting from Denver, are planning a party for him Saturday.
While he isn't thrilled to be retiring, partially because he said he doesn't feel 70 yet, Conn said he thinks he is getting out at a good time. The court system is starting to move toward e-filing.
"I am computer illiterate," Conn said from behind a stack of red file folders. "I don't do anything through computers."
Conn said he does believe computers are good for some things, like when he needs to have information pulled up from a previous court case, but he still prefers doing things the old fashioned way.
Remembering cases
Conn said he sentences nearly 500 felony cases per year, and it's hard to remember all of them, especially because not all of them are like "Perry Mason" cases.
One of the cases he does remember was a "parents' worst nightmare" involving a kidnapped child and molestation. He said the trial defense was based on the defendant saying he had multiple personalities, and so the focus of the trial shifted from the acts he committed to trying to decipher if the defendant actually had a defense.
Conn said the jury did not rule in the defendant's favor.
Matt Smith, the Mohave County Attorney, said the most memorable moment in Conn's courtroom was during a trial in which Smith was making a lot of objections. Smith made an "asked and answered" objection about 10 minutes after the defense attorney had asked a similar question. Conn, who takes meticulous notes even during the trial, asked for a moment, flipped back through his notes, looked at Smith and said "sustained."
"It's something low key that he probably won't remember," Smith said. "But it really stuck out to me."
"He loves the work and he should be able to continue doing it. The vacancy he will leave behind on the bench will be difficult, if not impossible, to fill."
Matt Smith
Smith said one of the traits about Conn he most admired was how he never lets personal feelings into the decision process. Conn always imposed a just and fair sentence to the best of his ability.
"You can be a jerk, or let them know you've assessed the whole situation," Conn said. "I try to go into court knowing everything about my cases. If you spend the time being ready, you come across as knowing what you're doing."
Therefore, his most embarrassing moment was when he came in unprepared to the bench. Conn said he hadn't had time to look at the file, and had only glanced at a note left in the file about the sentencing. The file had said something about a 10-year jail sentence, and so that was what Conn began to sentence the person for. His assistant passed him a note saying that this person wasn't supposed to be sentenced to jail.
"And I couldn't explain my reasoning behind it," Conn said. "You can't say, 'I was just joking. I wanted to see what you'd do if I sentenced you to jail.' I looked like an idiot."
Smith said he has spent a lot of time in Conn's courtroom, and the education he received over the 30 years of knowing Conn has been unbelievable.
"Not just the law, but how to conduct yourself and courtroom etiquette," Smith said. "(Conn) is someone who always kept up on the law. A lot of whatever success I have is because of him."
Conn said he has always tried to be fair and explain his decisions.
"People should leave understanding what happened," Conn said. "They may not agree with me, but if someone asks, they should be able to explain why I made the decision."
Retired, but still active
Conn said he probably won't wake up feeling like he has nothing to do for at least a few months. Conn is involved throughout the community, from city softball and basketball teams to showing classic movies at Kathryn Heidenreich Adult Center, and he has no desire to leave Kingman.
One of his favorite activities is showing films.
The senior center bought a new widescreen TV four years ago and one of the people Conn knew wanted to compile a list of movies. Conn readily supplied several classic titles, such as "Sabrina" which played Friday.
He was asked to introduce the movies, to show them himself, and Conn took this task to the next level. He said he follows a similar style to Robert Osborne, the host of Turner Classic Movies. Conn discusses the film before and after it plays and provides historical context. A lot of what he knows is from experience, but Conn said he will also research the film ahead of time.
Without hesitation, Conn said his favorite movie is "Casablanca." He said he has seen it about 15 times.
"Everything about it is perfect," Conn said. "There are certain movies you can just watch over and over again."
Conn said he plans to visit his children in Denver for an extended stay, and will be spending most of the summer out hiking or participating in other events.
"Once it's cold and gloomy, that's when reality will set in," Conn said. "I'll wake up and think, 'This really sucks.'"
For someone who has loved his job, who has always been happy every Monday when he has come into work, it's no wonder he'll miss it.
Smith said he feels that Conn retiring is a travesty.
"He loves the work and he should be able to continue doing it," Smith said. "The vacancy he will leave behind on the bench will be difficult, if not impossible, to fill."
More like this story