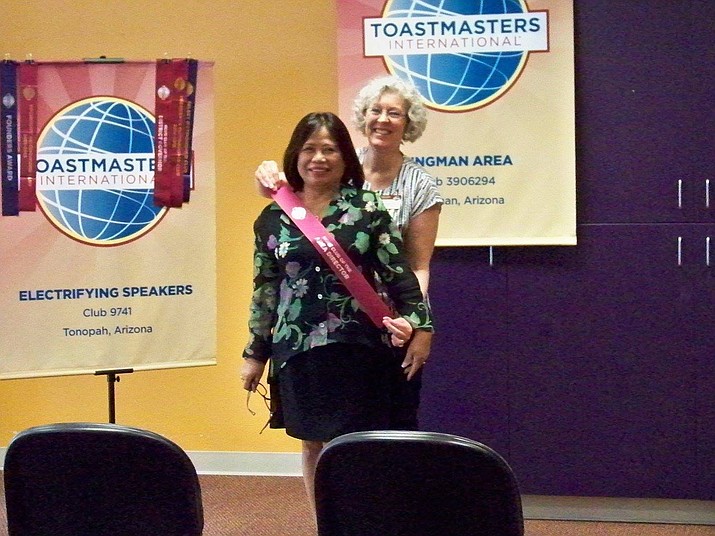 Originally Published: June 29, 2017 10:36 a.m.
KINGMAN — Kingman Area Toastmaster's members invites the public to their open house Thursday for a ribbon-cutting ceremony by the Kingman Chamber of Commerce along with helping celebrate their three-year anniversary.
The open house starts at 5:45 p.m. at the Kingman Regional Medical Center Hualapai Mountain Campus in Conference Rm. 2 at 3801 Santa Rosa Dr.
Keynote speaker is former District 52 Governor Robert O'Donnell, Distinguised Toastmaster, and special guests include Division Director Evangeline 'Jheli' Johnston, DTM, and Division Director Elect Glenn Barber, DTM.

This event is free to the public. Snacks and refreshments will be served during our open house social meeting.

"Kingman Area Toastmasters has been chartered since 2014 and has achieved the highest award that Toastmasters bestows on a club, the 'Presidents Distinguished Club' award," said KAT President Carl Stuart.
According to KAT spokeswoman Trish Carter, the club's mission is to provide a supportive and positive learning experience in which members are empowered to develop communication and leadership skills, resulting in greater self-confidence and personal growth.
Joining Toastmasters can help people become a better public speakers, overcome public speaking fears, practice presentations for other audiences and gain the confidence and courage to lead while having fun learning, networking and practicing new skills.