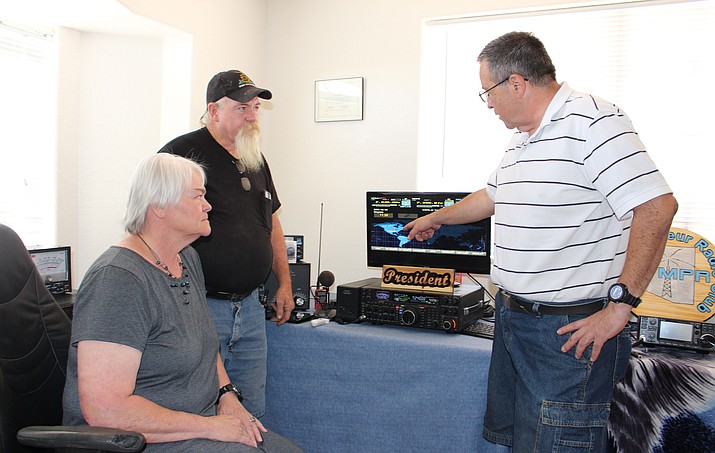 Photo by Hubble Ray Smith.
Originally Published: June 30, 2017 6 a.m.
When the lights go out – or worse, when the internet goes down as it did one night in May – it's good to know there's a network of amateur radio operators maintaining communication with police, fire and emergency services.
The Mohave Amateur Radio Club, with close to 100 members, has developed a countywide emergency communication implementing the best technology available, said Bill Smith, president and co-founder of the club 15 years ago.
About 30 club members participated in a field day at Lewis Kingman Park June 17 to show what they can do in an emergency situation with no power. Using generators, batteries and solar power and setting up an array of antennae, they were able to talk to people around the world.
"This started out as a garage deal," said Charlie Abernathy, club parliamentarian and sergeant at arms. "We'd meet on Tuesday night. We called it 'Nerd Night.' We kicked around the name Mohave Professional Amateur Radio Group, but a lot of traditional hams (ham radio operators) didn't like the 'professional' name. It's a battle to be accepted in the amateur (radio) community."
A lot of the older ham operators won't recognize the new guys because they didn't have to know Morse code to pass the FCC test for their license, said Carolyn Krick, vice president of Mohave Amateur Radio Club. That was back in 2007.
The FCC decided that the public interest is not served by requiring literacy in Morse code when the trend in amateur communications is to use voice and digital technology for exchanging messages.
"So then there was a big stink about, 'We had to learn Morse code. You're not a real operator if you don't know that,'" Krick said.
FCC test
Mohave Amateur Radio Club is holding a six-week free course starting July 6 at Mohave County Fairgrounds administration building for the FCC technician grade license, which is the lowest, entry-level license for permission to talk on the radio, instructor Skip O'Brien said.
The class is free. All that's needed is a pencil, paper and book, which costs about $25. A $15 fee must be paid for the FCC examination on the last night of the class. The test consists of 35 questions, with nine incorrect answers allowed for a passing score.
O'Brien said he was into CB radios in the 1950s and took a class when he saw an opportunity to work on radios.
"I had to pass proficiency in the Morse code to get my certificate. It was that way from the 1930s when it was all Morse," O'Brien said. "Then they went to AM and then FM and now there's so much digital out there. They went to sideband and doubled the use of frequency."
Mohave Amateur Radio Club has a system of repeaters around the county at Getz Peak in the Hualapai Mountains, Spirit Mountain above Laughlin and in Lake Havasu City. With the right smartphone technology, radio operators can get on their phone and talk to people through other repeaters around the world, O'Brien noted.
When Hurricane Katrina hit New Orleans and Sandy hit the Gulf Coast, all communication was down, and police and fire departments relied on radio operators to coordinate rescue efforts, O'Brien said.
"We're much more necessary that people realize," he said. "Most police understand what we do."
Amateur radio operators have always augmented local emergency communications, and when there's no emergency, they're talking to each other and meeting up on the road, O'Brien said.
For more information on the class, call O'Brien at 928-530-8639.
Club info
The purpose of Mohave Amateur Radio Club is to provide a window to the world of amateur radio and its many diverse opportunities. It's a chance to be represented in the amateur radio community with operating events, "ham fests," special projects and contests.
Membership is open to anyone, whether licensed amateur operators or individuals interested in amateur radio communications.
The club meets at 7 p.m. on the first Tuesday of each month in the Neal Conference Room at Kingman Regional Medical Center, 3269 Stockton Hill Road. The club's website is www.k7mpr.net.