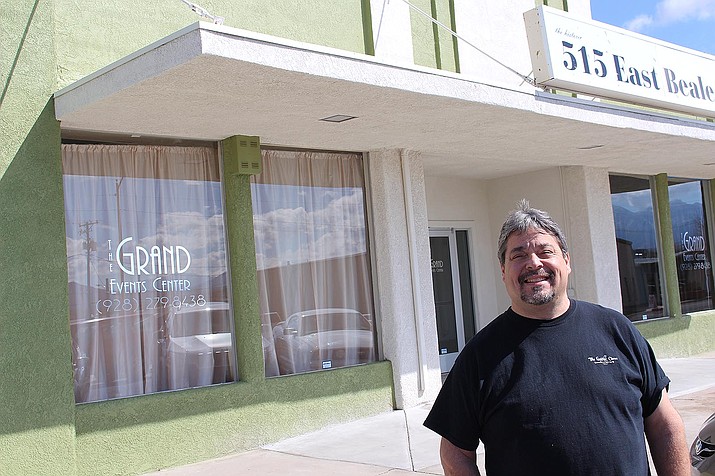 Photo by Hubble Ray Smith.
Originally Published: March 1, 2017 6 a.m.
Ron Campbell watched his business grow after opening the Garlic Clove restaurant three years ago in the emerging Beale Street commercial district and knew he had to do something about the unsightly, deteriorating building next door.
It was dragging down the look of his refreshed Garlic Clove, which was gaining popularity as a reasonably priced downtown eatery with good food and excellent service.
So in December 2015, Campbell bought the 6,300-square-foot building at 515 E. Beale St. that had been shuttered for years.
He spent $120,000 on renovations and meeting building code requirements, including fire sprinkler and air ventilation systems, and opened the 499-person capacity Grand Events Center in late November.
The refurbished venue has been rented out for a few weddings, private parties and meetings, but the big crowd has been showing up on the first Thursday of each month for Comedy Night put on by LA Sounds Entertainment.
The debut Comedy Night in January, headlined by Bob Zany, drew about 100 guests, and last month saw more than 140 people entertained by professional comedians on their way to and from shows in Laughlin and Las Vegas.
"It's a great thing," Campbell said of Comedy Night. "People are just so happy to have it. We give them something they don't have to drive 100 miles to go see, and we get them home early so they can go to work."
National touring comedians Jamario McClain and David Rosenblatt from HBO Comedy and Comedy Network TV are on tap for this Thursday. Admission is $15, and the show runs from 8-10 p.m.
Piggy-backing off his restaurant business, Campbell offers a buffet-style pasta dinner for $12.50 starting at 6 p.m. The menu includes bruschetta, salad, lasagna, penne pasta, chicken breast, meatballs, marinara, Alfredo and bread.
Cocktails are also served.
Campbell said he had "growing pains" with Comedy Night, first serving full dishes from the restaurant. He couldn't get food out to customers quickly enough, so he went to the buffet dinner.
Downtown Revival
Originally from Grand Rapids, Michigan, Campbell moved to Kingman about four years ago to buy Lombardo's Italian restaurant after owner Vito Lombardo died. Campbell had been friends with the Lombardo family, who were also from Michigan, since he was 16.
A year later he bought the former Dora's Beale Street Deli from Dora Manley, who stayed on as a business partner and runs the catering side of Garlic Clove. The restaurant recently catered a party for Desert Diamond Distillery at Kingman Airport, showcasing the distillery's rum in a raspberry vinaigrette, pot de crème and steak medallions with dark rum sauce.
"I fell in love with downtown," Campbell said. "I think this downtown Beale Street is wonderful. It's waking up. I'd heard it was a ghost town 10 years ago. I want to be a part of it. I'll retire in this town. I'm not going anywhere."
Campbell, who started with a pizza shop in Michigan, saw the Grand Events Center as an opportunity to take his restaurant business to the next level with event catering.
People were asking him if they could deal only with him in setting up an event, rather than having to find somewhere to hold it, call another place for the food, have someone else bring in tables and linens.
"The building sat here, it looked terrible, but it was right next door," he said. He put in handicap-accessible restrooms, a wheelchair ramp at the front door, new dance floor and new carpeting and paint.
"We went with the name Grand because it fits the history of our town and we wanted to have it be elegant," Campbell said. "When we do a fancy plated dinner, it's beautiful in here when it's set up."