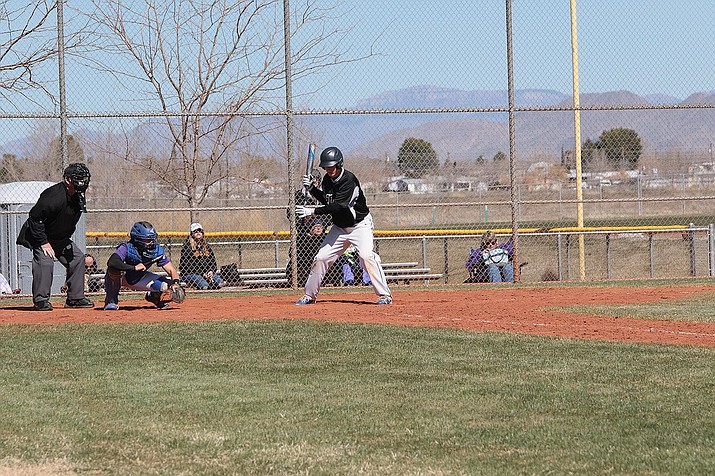 Originally Published: March 3, 2017 6 a.m.
KINGMAN – Mike Bathauer had a day at the plate, going 3-for-3, hitting a bomb and driving in 5 RBIs. Paul Giglio drove in three runs, Hunter Allen knocked in two runs and Matt Batauer drove in one run as Lee Williams stayed perfect on the season to move to 3-0.
Lee Williams scored nine runs in the second inning to mercy rule Kingman Academy 14-0 in Thursday's afternoon Kingman tournament.
Lee Williams 16, River Valley 1
In their first game of the tournament, Lee Williams pounded out 14 hits as they destroyed River Valley 16-1 in a game that was called because of a 10 run lead.
Lake Havasu 11, Kingman Academy 1
Kingman Academy's Wyatt Hall hit a double to score Ryan Hurley in the top of the fourth inning, but unfortunately it wasn't enough as they were mercy ruled by Lake Havasu 11-1.
Levi Garcia had a double, Wyatt Hall, Ryan Hurley, Kannon Butler, Landon Colvig, and Noah Weiler, all had hits for the Tigers. Kingman Academy moves to 0-5 on the season.
Mohave 8, Kingman 0
Mohave scored seven run in the third inning to take an 8-0 victory over the Kingman Bulldogs in the Kingman baseball tournament. Thunderbird's pitcher Bjorn Syme pitched four strong innings and no-hit the Bulldogs.
The championship tournament begins today with eight games scheduled beginning at 9 a.m. at KHS.