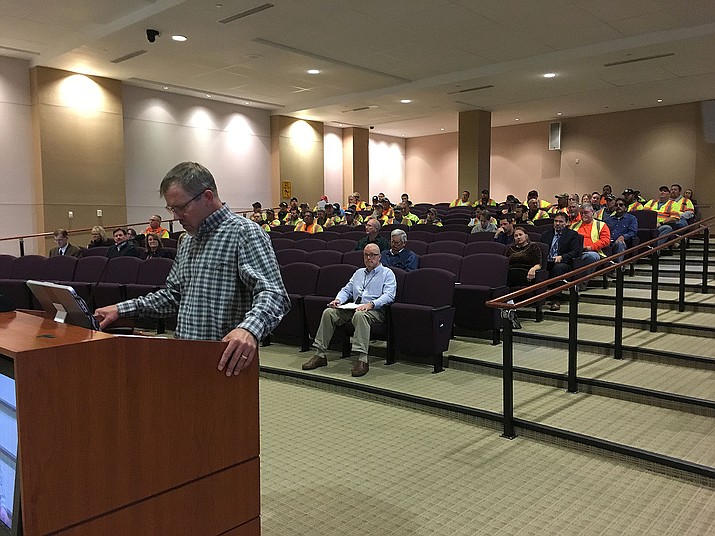 Photo by Hubble Ray Smith.
Originally Published: March 7, 2017 6 a.m.
KINGMAN – There wasn't much work being done on potholes Monday morning because 50 road workers from the Mohave County Public Works were at the Board of Supervisors meeting making their case for an increase in pay.
Aaron Dunton of Fort Mohave said he represents all the workers in the road department looking for raises when he got this three minutes in front of the board.
Road workers are held to "higher standards" with OSHA training requirements and commercial driver's licenses, and their pay doesn't reflect that, Dunton said. Insurance premiums increase every year, leaving them with less net income.
The turnover rate is high because a lot of companies are looking to hire drivers with a CDL and they pay more, Dunton said.
"I think that's a problem you'll keep having," he told supervisors. "When I was first hired, I thought, 'Hey, that's a good job. You get raises and PTO (paid time off).' You get in here and learn new hires get half the PTO of existing employees."
Bryan Shields said it's tough to train in-house employees for management positions because they're snagged by private companies paying higher salaries.
A 2.5 percent increase in pay is a "good start," but a step up in the pay scale would be more beneficial, he said.
"The board needs to understand how important a pay increase is to keep current employees and entice new ones," Shields said.
Another worker said veteran employees have been there a while without a pay raise, and they'll be gone when local mines open up again and Arizona Department of Transportation starts looking for more CDL drivers in Bullhead City.