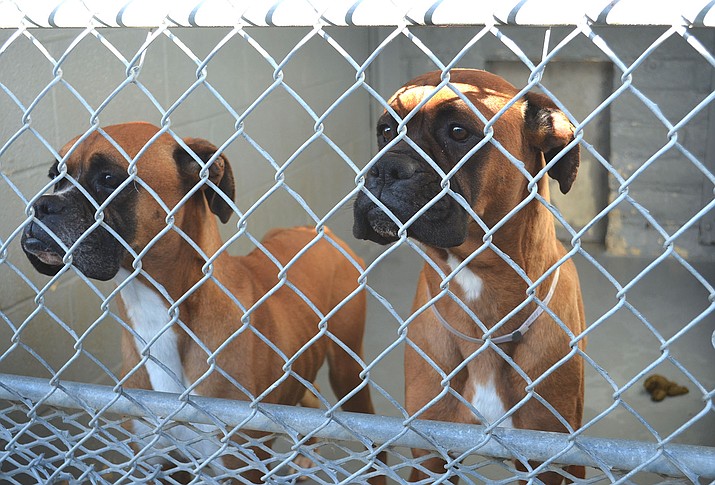 Photo by Aaron Ricca.
Originally Published: March 7, 2017 6 a.m.
KINGMAN – The Western Arizona Humane Society will continue operating the county-owned Kingman animal shelter for the next two years under a contract approved Monday by the Mohave County Board of Supervisors.
Supervisor Gary Watson expressed concern about going beyond one year on the contract, as he wanted the animal shelter evaluated for its management and efficiency. He was satisfied with a provision in the agreement that requires a one-year performance report.
Supervisors had the option of approving a one-year or two-year extension of the current contract, which is for $260,000 a year, or soliciting proposals for the contract that ends June 30.
The item was placed on the supervisors' regular agenda by Procurement Director Rebecca O'Brien, who noted there are no issues with the current contract provider. She said her office received a couple of calls in support of WAHS.
County Administrator Mike Hendrix said WAHS "stepped up and took the lead" in working with some 200 animals displaced by the December closing of the Rescued Unwanted Furry Friends Foundation animal rescue sanctuary in Golden Valley.
Patty Gillmore, executive director of Western Arizona Humane Society, said a two-year contract provides "stability and continuity" for the shelter.
WAHS spayed and neutered more animals in 2016 and transferred more animals to permanent homes and shelters than any previous year, Gillmore said. The "live release" rate for dogs was 94.3 percent in the last quarter, and not one healthy cat was euthanized during that time, she added.
She credited Kingman Animal Shelter manager Lisa Snyder for building a strong team.
"Admittedly, we got rid of some people and brought on new people," Gillmore said.
Judy Torgerson, a volunteer at Mutt Matchers, across the street from the Kingman animal shelter, said what Snyder did to vet the animals from RUFFF was "incredible," and that she's seen her working weekends at PetSmart and Petco trying to get animals adopted.
"They love and care for all the animals there," Torgerson said. "They lowered the euthanasia rate and raised the adoption rate. My daddy told me, 'If it ain't broke, don't fix it.'"