Originally Published: March 8, 2017 6 a.m.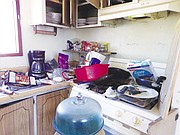 Landlords aren't always to blame for the squalor seen in neighborhoods all over town.
Trashy tenants can make the even best property owner look like a slumlord.
Frank Delgado has been renting homes in the Kingman area for almost 30 years and has enough bad-renter horror stories to write a weekly column. He talked to The Miner Tuesday morning – immediately after hauling to the county landfill more than 2,300 pounds of trash left over from a recently removed tenant.
"The trash was from both inside the house and the yard," he said. "But mostly inside."
The garbage was from a singlewide trailer on Suffock Avenue, one of his four rentals in Kingman.
"The place was immaculate when I first rented it," Delgado said. "There was new carpet and paint and the yard was clean."
He rented it out to a couple in their 60s in 2015. The trouble started immediately. Delgado initially told the couple there were no dogs allowed (except for service dogs) but he did let the pair get one outside dog.
"Next thing I know there were four dogs at the place," he said.
Delgado said the couple's son (a man in his 30s) almost immediately moved in. Delgado previously had uncomfortable encounters with the man and knew him to have anger management issues. The mother recently passed away and the dad moved to California, putting the son in charge of cleaning the place and turning over the keys to Delgado by March 3. He didn't get them until Sunday. He knew the house had damage, but when he arrived to survey the home, he found the place trashed, discovering broken windows, holes in doors and mounds of filth both outside and inside the home.
"The carpet was shot," he said.
Delgado said the son was planning to stay, but after two years of increasing damage to the rental, Delgado wanted him out. He told the man he wasn't going to give back the $450 deposit and that's when the soon-to-be former tenant became uncooperative, refusing to leave unless Delgado went through a lengthy legal and costly eviction process.

"I just paid him $225 to get out," he said.
Delgado doesn't plan to take the tenant's son to court, mainly because of past experiences and wouldn't expect to get reimbursed for repairs. He recently received a $1,000 settlement from an earlier court case, but that's a rarity. Courts can make judgments against an evicted tenant, but that doesn't mean they'll pay up.
"It's almost impossible to collect," he said. "If you garnish their wages, they just quit their job."
Delgado said he's no slumlord and that he's had plenty of bad tenants who've accused him of that.
"I try to be fair with everyone," he said. "I have about four tenants who are great." He shrugged his shoulders when describing the rest.
Delgado said he's not super-strict on getting rent by the first of the month and that repairs are handled quickly when needed.
"I'm Johnny-on-the-spot when someone tells me something is wrong," he said.
Bad tenants usually equal bad neighbors. Delgado has called Mohave County Department of Public Health about trash on properties adjacent to his rentals. They responded quickly and took care of the situation, but judging by the appearance of many properties in Kingman, there's still plenty of work to do.
The Kingman Police Department's Neighborhood Services and Code Enforcement handles complaints in city limits. In 2016, they handled roughly 3,200 calls for complaints related to trash, weeds, abandoned vehicles and loud or neglected animals. The county's public health department handles complaints outside city limits.
Representatives for both agencies could not be reached for comment.
Delgado was still cleaning the Suffock Avenue home Tuesday. He estimates that between cleaning and repairs, it will be at least a month before he can rent it out again. He doesn't do background checks but rather gut instinct or word of mouth references when renting. He's not afraid to lay his foot down when evicting bad renters.
"Not all of us landlords are bad," he said. "Bad tenants make us look bad."