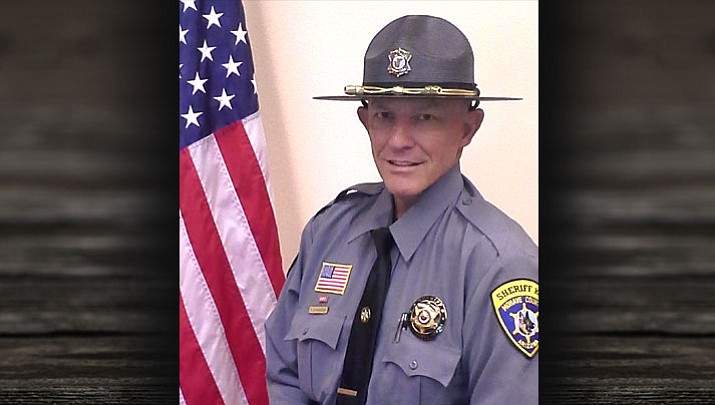 Originally Published: March 8, 2017 6:01 a.m.
Kerry Wayne Schanaman, born into this world Jan, 9, 1960 and peacefully left this world March 1, 2017.
Kerry was born in Sidney, Montana. He moved with his family in his younger years to Wyoming and Alaska, finally settling in Kingman, Arizona in 1968. He met his wife, Jody, in 1987, and they shared 30 years together sharing the same love of life, kids, family and bettering their community.
Kerry worked for Motel 6, Pepsi, El Rancho Market and Yell Concrete before starting his own fencing business, City Fence, which he owned and operated for 13 years.

Seeking security for his young family he studied and became certified as a practical technical radiologist, fulfilling a desire to follow in his grandfather's footsteps in a medical profession. However, God had a different calling for him, as shortly thereafter a door opened into the world of law enforcement and he was offered a position with the Mohave County Sheriff's Office in 1998.
Thus began his life and servitude to the community and to the youth. This pathway allowed him to touch many lives. The impact he made (and still makes) on the people he met through his involvement in all of the programs he encountered as the School Resource Officer at Kingman High School will be forever felt.
He found his niche as he was a huge proponent of youth being involved in organizations. His infectious and caring demeanor spread like wildfire and he became a mentor in many community and youth-oriented projects and programs, touching both youth and adults alike throughout Kingman, the state and nationally.
Kerry wore many hats during his short life here on earth, including loving father, husband, brother, son, friend, coach and mentor. His travels took him down many paths and opened doorways into many avenues touching countless lives and creating friendships along the way.
Kerry was first and foremost a husband and a father. His family was his priority in his life, helping raise two beautiful children, Erika (Brad) and Joshua (Maggie), and a recent addition, grandson Korbin, all of whom will carry on his legacy of unselfish acts of goodness and kindness. He leaves behind his wife and children, mother (Rose Marie), and sisters (Roxanne and Lynnette) as well as his countless nieces, nephews, cousins, aunts and uncles.
There will be a huge void left with his passing. He no longer has to fight the good fight as he is in the loving arms of his Creator.
His infectious smile will not be forgotten. Rest in peace.
There will be a Funeral Mass at 10 a.m. on March 10 at Trinity Church, 425 E Spring St, Kingman, AZ and a Mohave County Sheriff's Office public memorial at 1 p.m. the same day at Kingman High School, located at 4182 N. Bank St, Kingman, AZ.
In lieu of flowers Kerry requests that donations be made to the St. Jude Children's Research Hospital or the Joan and Diana Hospice.