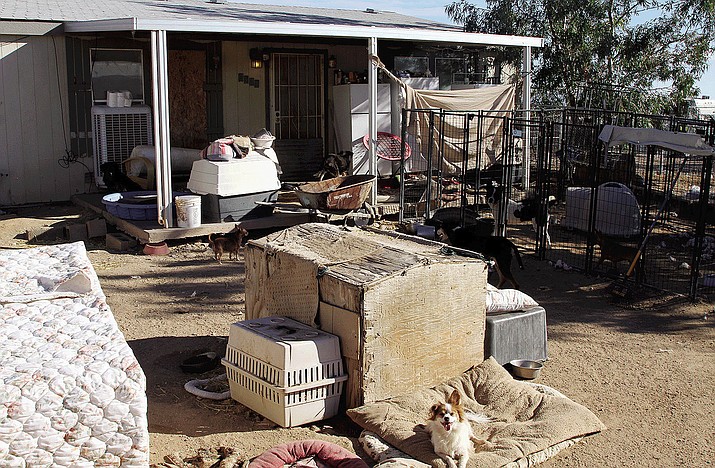 Photo by JC Amberlyn.
Originally Published: March 10, 2017 5:58 a.m.
KINGMAN – Hillarie Allison, founder of Rescued Unwanted Furry Friends Foundation, was sentenced Tuesday in Kingman Justice Court to nine years of probation for mistreatment and neglect that led to the December closing of her animal sanctuary in Golden Valley.
Allison, who pleaded guilty in February to three misdemeanor counts of cruelty to animals, was also ordered to pay $3,000 for the relocation of some 180 animals taken from her sanctuary.
She also cannot operate a kennel while on probation. Her 90-day jail term was suspended.
Mohave County Sheriff's Office animal control officers, in conjunction with the county's Public Health and Building Department, raided the RUFFF sanctuary on Laguna Road in December.
Officials found a number of code violations, including improper plumbing connections, no handwashing sink with hot water and soap, no sand bedding in the kennels and open bags of animal excrete.
Animal control officers removed at least 14 dogs and four cats from Allison's home. Western Arizona Humane Society assisted in finding homes for most of the animals displaced by the closing of RUFFF.
Mohave County Board of Supervisors voted in January to begin the 60-day process to revoke the kennel license for RUFFF, which had been the subject of complaints almost from the time it opened in 2003.
The item is scheduled to be heard again at the March 20 board of supervisors meeting.
More like this story