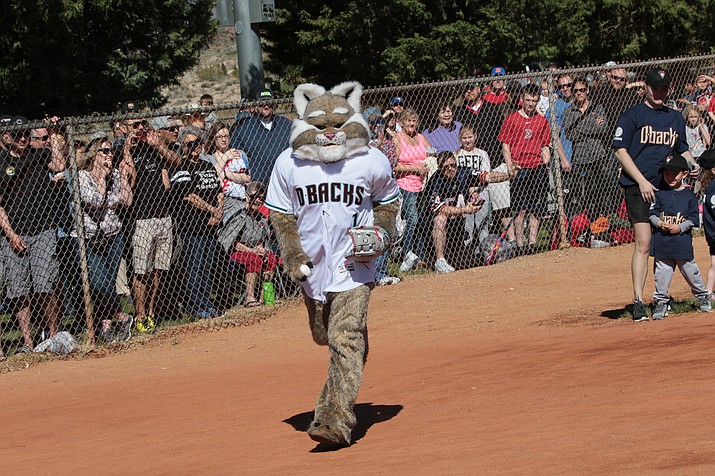 Photo by JT Keith.
Originally Published: March 13, 2017 6 a.m.
KINGMAN – It's official, baseball season is here.
Nothing says play ball like having over 1,000 parents and kids waiting in the stands and on the fields of Southside Park, waiting for the surprise guest to be revealed and kick off the 2017 Kingman North and Kingman Little League baseball seasons.
On a warm, sunny Saturday morning, there was not a care to be found as little kids were dressed in their Arizona Diamondbacks uniforms and hats with their teammates lined up alongside their teammates and coaches.
When parents, athletes, and even Kingman Little League President Oscar Lopez could wait no more, the special guest came out.
The special guest didn't come walking out, but riding with swag, style and sirens blaring and lights flashing atop a fire truck.
The guest was none other than Baxter, the Arizona Diamondbacks mascot.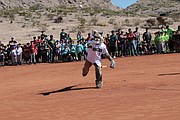 As Baxter made his way into the park and entered the field, he shot off confetti to announce his entrance to the many people at Southside Park.
Little leaguers jumped up and down with glee, running to the opening of the fence to get a better look at him.
Parents jumped to their feet and shouted like they had a winning lottery ticket and gave Baxter a standing ovation.
Lopez lectured the parents on the importance of showing up and supporting their kids.
Not only were the co-opening day ceremonies a success, it was the culmination of a coming together of Kingman Little League and Kingman North Little League and being a unified baseball organization for the kids, stressed Audra Patterson and Lopez.
"It is a great day, and a great day for Kingman," Lopez said. "There are 570 kids out here, and all of the uniforms and hats were funded and paid for by the Arizona Diamondbacks Foundation."
Lopez has been president for eight years and part of the league for 15 years.
Some of the biggest changes he has made has been working with the city of Kingman on the fields, and trying to get the community involved with the league.
"It is not our program," Lopez said. "It is the kids program. It is important for families to support their kids."
It is too late to join a little league team, as registration started in January and ended in February, and teams have been put together. Little League baseball players range from 4 to 12 years old.
"We hope to teach the kids about sportsmanship, about their community and family," Lopez said.
The Diamondbacks uniform buy is in its second year. The league was introduced to it last season, but applied too late to receive funding.
The Arizona Diamondbacks Foundation supports the jerseys and hats with donating sponsors Tide, Western Refinery, and Fry's Food.
In the future, both leagues would like to secure a grant through the Arizona Diamondbacks Foundation for a field to expand their playing capabilities.
"We are not here for the uniforms," Lopez said. "At some point, we need to bond and become one group. It shouldn't be Kingman North or Kingman South anymore. It needs to be Kingman Little League for all the kids, whether it is North or South."
Paulette Purnell of the Diamondbacks Foundation announced that Kingman North and Kingman are a part of 93 Little Leagues they support, and the players and coaches outfitted total over 50,000.
Along with that, Baxter entertained the kids and crowd by taking pictures, signing autographs, and made everyone love baseball and glad to play ball.