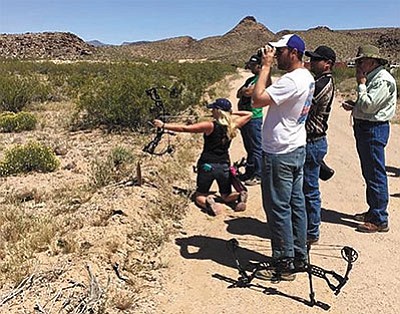 Originally Published: March 14, 2017 6 a.m.
KINGMAN – If you are one of the many archery enthusiasts in Mohave County, you may want to mark your calendars and plan on attending what Match Director Taco Esquibel calls March Madness.
Esquibel noted that the event will be held on the archery range at the Mohave Sportsman Club's 7 Mill Hill Range on March 25-26.
The two-day event will feature a 15 target 3D course, with shooting between 8 a.m. and 2 p.m. on Saturday, and from 8 a.m. till 1 p.m. on Sunday.
Cost to shoot the event is $16 daily for adults, while youth pay $7 per day or $12 for two days.
MSC club members can shoot for $8 daily or $15 for both days.
There is also a family rate where two adults and 3 youths can shoot for $32 a day or $60 for both days.
Besides the 3D targets, there will be a long shot event where participants can shoot one arrow for $1, or $5 for six arrows. The winner splits the prize money 50/50 with the club.
Snacks and soft drinks will be available the range, and daily door prizes will be awarded.
For more information on the shoot, contact Esquibel at 928-716-0505 or Stewart Bowman at Desert Archery, 928-681-4007.