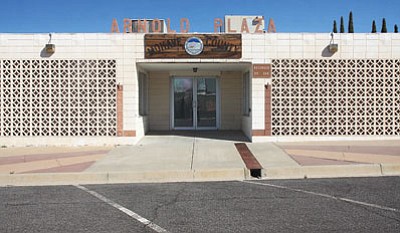 Photo by JC Amberlyn.
Originally Published: March 14, 2017 6 a.m.
KINGMAN – Pat Farrell is enthusiastic about the prospect of turning Arnold Plaza from a downtown eyesore into a one-stop shop for homeless veterans to find counseling, services and resources to become more productive citizens.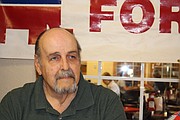 There's no estimate on how much it would cost to renovate the 21,000-square-foot Arnold Plaza, and the largest obstacle to getting started is asbestos abatement, said Farrell, president of Jerry Ambrose Veterans Council.
"It's somewhat of an eyesore right now," he said at the March 8 Mohave Republican Forum. "This Arnold Plaza is a good building and we want to restore it to its glory. We need money. I'm not going to lie to you."
Farrell said he'll meet with city officials about purchasing the building using grants, donations and loans after environmental studies are completed by the Environmental Protection Agency and Arizona Department of Environmental Quality.
The process is moving along at "government speed," he said.
Once the building is finished, Jerry Ambrose Veterans Council has a partner that Farrell would not identify who will take the rooms.
Mohave County has seen an increase in homeless veteran population, and the problem is not going away, Farrell said. He reported 390 veterans attended the recent "Stand Down" in Bullhead City, and about 40 of them were homeless.
Almost all of them will be housed within the next three months, he said.
The council, a 501(c) organization, provides financial assistance of $300 to $600 for apartment deposits and utilities.
Farrell said 99 percent of veterans adjust well to civilian life after military duty, but there are some who saw something or did something that causes them to be on the street.
"There's some barriers out there keeping these veterans from being successful in life and we have to identify that," Farrell said. "Two-thirds of them have mental problems, but those who want to go work, we'll train."
After a veteran obtains employment, he or she typically has a two-week gap or longer before they get paid, and that's when Jerry Ambrose Veterans Council provides assistance, Farrell said.
"You all see these vets lying in the streets by the Kmart and in the alley ways," Terry Flanagan, commandant of American Legion Post 14, said at the Republican forum. "They all served our country. They deserve better than an alley way. That's our goal."