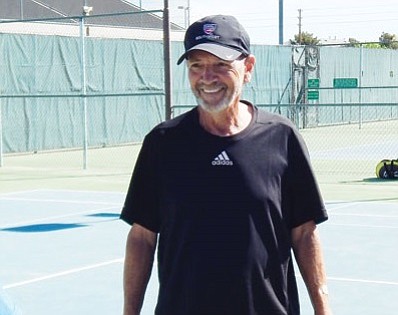 Photo by JC Amberlyn.
Originally Published: March 15, 2017 6:56 a.m.
Our record is 2 wins and 3 losses. The player I would like you to focus on is actually number three on our roster. His name is Jordon Freeman. He, like our other varsity players, has played both singles and doubles at every event. He has won all of his matches. Singles and doubles. The number one (Parker Taylor) and two (Kade Juelfs) have had to play the best two players on the other teams and they have played well, especially as a doubles team. I don't think they've dropped a match in doubles.
Our overall best performance was March 1, at Kingman High, where we won all nine matches. In high school we play six singles matches and three doubles. A big challenge for us is travel. We have already played three times schools that are over 150 miles away. We go, play, and return – all in the same day. We are scheduled for three more of those matches. The kids must keep their grades up to be eligible to play and these kinds of trips don't help with studying or participating in class.
Bottom line is I have a terrific bunch of kids on this team and I'm enjoying working with them. I enjoy the unexpected good things. Like a junior varsity player who played a singles match in Phoenix for his first official tennis contest. These matches are first player to eight and has to win by two. My young player came off the court smiling and happy because he had won four games. He lost the match 8 to 4, but he was pleased about the four games he won. This does my heart good.