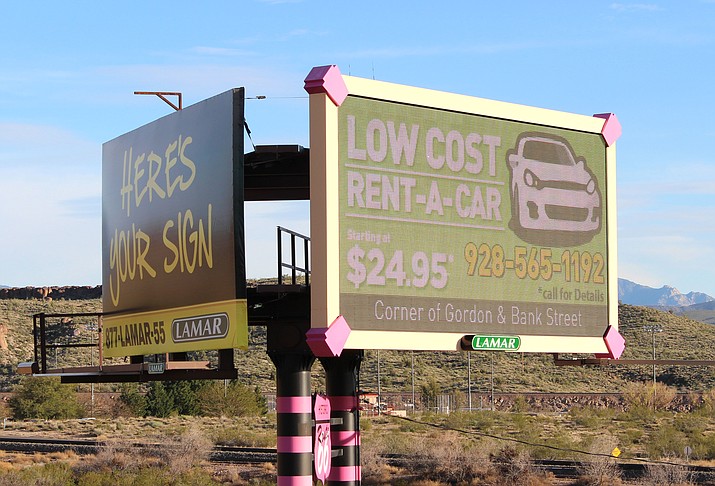 Photo by Hubble Ray Smith.
Originally Published: March 17, 2017 5:58 a.m.
KINGMAN – Christina Butler hates to see state Sen. Sonny Borrelli getting "beat up" in the Legislature over bills that he's introduced like SB 1114, which earned him the moniker, "Billboard Borrelli," by some of his Mohave County constituents.
Borrelli, R-Lake Havasu City, is a retired U.S. Marine Corps veteran, so he's pretty tough and can take the punches, even when he doesn't deserve it, said Butler, vice president of Lamar Advertising.
"He's been tough," Butler said Wednesday during an interview at the Daily Miner. "I had to negotiate things away because he's sensitive to his constituents. He's a fighter."
Several pending and somewhat controversial bills will test just how resilient the local lawmaker can be as he navigates the legislative rigors of balancing the laws from all sides.
Senate Bill 1114 proposes to allow electronic, LED billboards along Arizona highways within a 40-mile radius of Bullhead City. It would tweak a law from 2012 that allows electronic billboards in areas outside a 75-mile buffer zone from any observatory.
But Mohave County was omitted from the law, despite being more than 100 miles from the nearest observatory in Flagstaff.
"This bill allows the same economic opportunity for our county (that) the other areas were afforded back in 2012," Borrelli said. "The bill only creates the opportunity for the area by including it in the legal area of the state, but the local jurisdictions will still decide whether they want to allow this form of advertising or not."
Kingman already has one of Lamar's electronic billboards on Andy Devine Avenue that was "grandfathered" in by the city, Butler said.
By converting billboards to electronic LED lighting, the light comes from behind the billboard and is emitted straight forward, instead of the typical billboard lights that are shining upward and into the sky.
Much of the opposition to SB 11124 comes from Arizona's $1.3 billion astronomy industry, along with astronomy clubs and stargazers who appreciate Arizona's dark, starry skies.
Physicist Angela Cotera told members of the House Committee on Transportation and Infrastructure that light from electronic billboards travels out horizontally, and that they're "incredible light polluters."
Cotera said if Borrelli was interested in expanding the billboard area, he should have met with members of the astronomy community and crafted the bill as it was done in 2012.
In his second attempt at the bill, Borrelli was able to compromise with astronomy clubs and the state's three observatories by capping the number of billboards at 35, lowering light levels and condensing the area to within 40 miles of Bullhead City, rather than the entire county.
Lighted outdoor advertising displays will not exceed 200 nits, a measurement of brightness, a substantial reduction from 342 nits, which is the standard in the law covering Maricopa, Pima and Yuma counties.
"We felt like if we could work with the astronomers, we should try to do that," Butler said. "It's definitely an industry that needs to be respected in the state. We thought it was fair."
The bill passed the Senate by a 20-10 vote.
Borrelli has a couple of other bills proposed at the Legislature, including Senate Bill 1337, which would legalize production, sale and distribution of industrial hemp.
It's been used for thousands of years to make paper, rope, canvas, textiles and other products.
Borelli said the hemp industry could rival Arizona's $400 million cotton industry, while using about one-sixth of the water needed to grow cotton. And it saves trees.
"It's good policy. It's economic development and it's good for the agriculture community," he said.
Borrelli also proposes a bill that would allow legal gaming in bars, nightclubs and other appropriate establishments, with the money going to fund full-day kindergarten classes and teacher pay raises.
Time will tell if the senator can get his bills passed, but nobody can deny that he's engaged with the citizens of Mohave County and putting his best efforts forward, Butler said.
"He ran a tough and often very ugly campaign against Ron Gould," the advertising executive said. "Perhaps this was what he needed to withstand all the body punches from the Capitol, special interest groups and, of course, there's always the uninformed constituents who just like to spout off without doing any research or investigating what it is he's advocating."