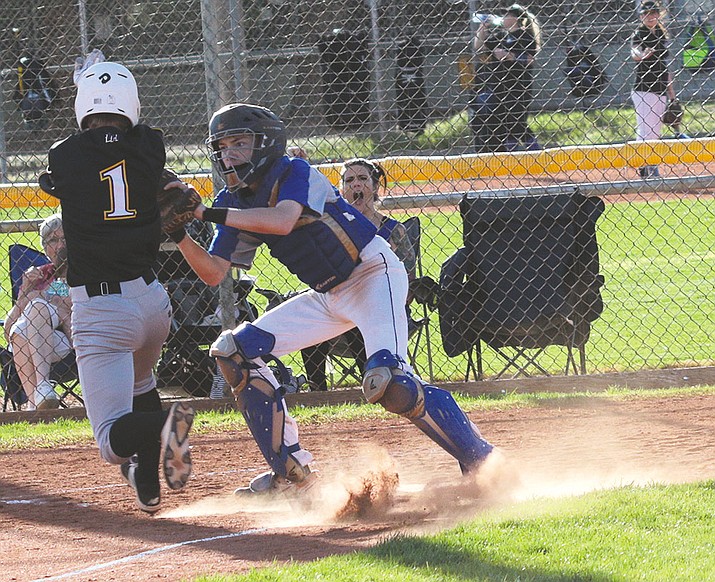 Photo by JT Keith.
Originally Published: March 17, 2017 6 a.m.
KINGMAN – It is easy to see why schools such as Kingman, Kingman Academy and Lee Williams don't like Lake Havasu much. Knights baseball coach Craig Bolton was either using this as a motivational ploy or really believed his team was far superior to the Tigers. He felt they should have won the games easier than they had.
Between games of a doubleheader with Kingman Academy, Bolton told his team, "We shouldn't be struggling against a mediocre team such as this."

Struggle they did as the Tigers had runners on first and third in the eighth inning with one out. Lake Havasu forced a Kingman Academy hitter to groundout ending the game and preserving the win, 5-4.
Kingman Academy scored four runs in the fourth inning on a base hit by Kaden Bean, scoring Donald Tatham. The Tigers had a 4-1 lead until the top of the seventh inning before giving up home runs to Christian Scarpa and Gavin Dorhn that tied the game at 4-4.
Jackson Nelson singled off Tatham in the top of the eighth for the go-ahead run.
Brad Ogden, Levi Garcia, Bean and Tatham each drove in one run for Kingman Academy. The Tigers had four hits in the game, while committing six errors.
Lake Havasu 4, Academy 3
In the second game of the doubleheader, Kingman pitcher Bradley Hecker was competitive and battled for six innings before giving up one run in the fifth and sixth innings. Hecker allowed four runs on six hits, while striking out five batters as the Knights defeated Kingman Academy, 4-3.
The Tigers' Adam Chastain knocked in a run in the top of the seventh inning to produce runners on first and third to bring the score to 4-3. The next hitter grounded out to second base, ending the game.
Kingman Academy found some offense and outhit Lake Havasu, 8-6. Levi Garcia went 3-for-4, with Noah Weiler, Kaden Bean, Tatham, Chastain and Ryan Hurley all getting base hits.
SOFTBALL
Lee Williams 17, Parker 4
Lee Williams Lady Volunteers softball team had an outstanding day at the plate. Three players collected three hits each as the Lady Vols totaled 16 hits while defeating Parker Wednesday at Parker, 17-4.
Tori Logan, Holly McFadyen and Becky Leclair each had three hits, with McFadyen driving in four runs. Siava Allen and Lorelei Fernandez each had two hits. Jazmyn Serrano, Kenzie Peterson, Courtney Janney and Kara Mertens each contributed with one hit.
Petersen pitched five innings, surrendering four runs and allowing seven hits while striking out two to earn the win.
Lee Williams ran wild on the base paths, stealing 13 for the game with McFadyen swiping a team-high four.
Lee Williams (2-5, 0-1 4A Grand Canyon Region) returns to action in the Coca Cola Kingman Invitational at 4 p.m. today.