Photo by JT Keith.
Originally Published: March 19, 2017 6:01 a.m.
KINGMAN – Lee Williams wanted a little get back. And the Lady Vols got it when they knocked off Kingman Academy 6-5 in the championship game of the Coca-Cola Classic high school tournament at Centennial Park Saturday.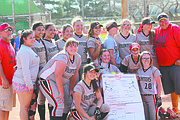 In the seeding portion of the tournament Friday, Kingman Academy beat Lee Williams for the first time in school history in extra innings, 7-6.
In the top of the fifth inning, Kingman Academy had a base runner on third, who tagged up and scored on a fly ball hit to right field. However, the Lady Tiger was called out for leaving the base too soon.
In the bottom of the fifth, junior Becky LeClair ended the drama with a home run to right-center field, giving the Lady Vols the tournament championship over the Lady Tigers.
Kenzie Peterson pitched five innings and gave up five runs on four hits.
"It's all about the girls," said Lee Williams coach Julia Lasiloo. "The girls wanted it a little more today."
Lee Williams (4-1) advanced to the tournament with a first-round win over Chinle (10-6) earlier in the day, and then the Lady Vols advanced to the title game with a semifinal win over Lake Havasu, 7-5. Siona Allen and Kenzie Peterson each had multiple hits in the win. Before losing to the Lady Tigers Friday, Lee Williams defeated Window Rock, 3-1.
Kingman Academy took down Mohave Accelerate in the semifinals to set up the showdown with Lee Williams, 10-4. Jessica Plew and Maryssa Edwards combined for the win.