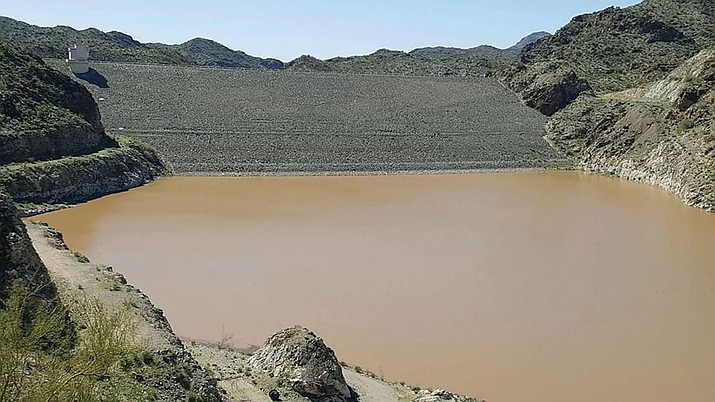 Originally Published: March 21, 2017 5:55 a.m.
The other day I noticed a post from Mohave County Supervisor Jean Bishop where she was standing in front of the seal of Mohave County.
I've seen that seal many times, but then I noticed it. The animal that is portrayed on the seal is that of an elk.
But wait, I mused, are the majestic elk portrayed on the seal a native animal in this county?
Many years ago, in the 1960s, I remember one of my uncles, Omar Martin, talking about an elk hunt that he had gone on in Game Management Unit 16A, the Hualapai Mountains, where he ended up harvesting a really nice bull.
I moved to Kingman in 1972, fresh out of the service and fairly new to the outdoor scene, and I don't remember much about people talking about elk being in the Hualapai Mountains.
Over the years as I became involved in the great outdoors in Mohave County, I learned that there were elk in the Hualapais, and the Arizona Game & Fish Department even offered a limited amount of hunting there.
But when did Mohave County and specifically the Hualapais get elk here?
It was a question that I would propose to the folks at the Region 3 office here in Kingman.
And as it turned out, Jeff Pebworth, the region's Terrestrial Wildlife Program manager would provide the answer to that and other questions I had.
Pebworth told me that there was a file at the Region 3 office that contained the information I was seeking and invited me to meet with him to review the file.
The information that he shared was more than interesting. Not only did it have the information when the first elk were brought to Mohave County, but also under the unusual circumstances that led them to being brought here.
At the end of the 1800s Arizona was home to a subspecies called Merriam's elk. These elk were primarily found in northern Arizona from the Mogollon Rim east to the Blue Mountains and west to the area around the San Francisco Peaks near Flagstaff.
Again the historical accounts offer several different timelines, but it's believed that the last Merriam's elk was taken around 1900.
With all of the native elk gone, groups and agencies decided they needed to repopulate elk in Arizona.
After a lot of wrangling by some Arizona political leaders, in February 1913, the Winslow Elks Lodge, working in concert with the U.S. government, brought in by railcar a total of 83-86 elk that had been captured in Yellowstone National Park in Wyoming.
Those elk were subsequently pushed south from Winslow to an area known today as Cabin Draw, which is close to Chevlon Creed.
Between 1913 and 1928, there were 217 elk brought to Arizona. The literature states that these elk were released in National Forests near Alpine and in Williams.
Strangely, there is no mention of elk coming to Mohave County during that time, but they did, and here is how they arrived.
Pebworth had documents that detailed exactly how and why elk got to Kingman, and ultimately, the Hualapai Mountains.
Credit has to go to the work by a group known as the Mohave County Game Protective Association, which in 1926 had over 200 members. This group of concerned sportsmen wanted to see elk in Mohave County.
Here is how it went down.
On Feb. 14, 1927 a group of elk 25 elk arrived by rail in Williams. These elk were to be released in that area.
However, a group of local cattlemen and the U.S. Forest Service could not agree on the conditions of the release, so the elk were brought by rail to Kingman.
They were unloaded and put in holding pens until a group of local cowboys were tasked with driving them into the Hualapais. That release occurred on Feb. 18, 1927.
Subsequently, in 1828, 55 elk were brought to Williams and released.
In 1963, 36 elk were transported to the Hualapai Indian Reservation and released, thus starting what is today one of the best elk herds in the southwest.
So the elk in Mohave County today are the result of an unplanned stocking due to a dispute between the U.S. Forest Service and a group of cattlemen.
I asked Pebworth if there was any record of Merriam's elk being in Mohave County prior to this transplant.
"No," he stated. "But then again there is nothing in the records that says there weren't elk here before that time."
Pebworth also noted that elk are found in other areas of Mohave County besides the Hualapai Mountains.
"There are elk in many of the mountain ranges in the county." Pebworth noted that elk are found in nearby Units 18A and 18B and they have been found in areas such as the Topock Marsh and around Alamo Lake.
All of this brings me back to why I got interested in the history of elk in Mohave County.
There is an elk on the seal of Mohave County. Is it appropriate since we now know that the elk here were transplanted?
In next week's column, I will offer a suggestion for an animal that may be more appropriate for our county seal.
With any luck, I'll get a response from the Mohave County Board of Supervisors on its take on this suggestion.