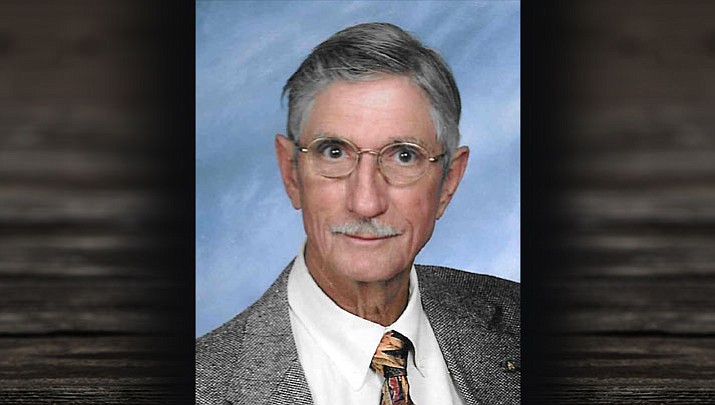 Originally Published: March 22, 2017 6 a.m.
Frederick David Haydon, 82, of Kingman, Arizona passed away Thursday March 16, 2017. Dave was born and lived most of his adult life in the Houston, Texas area. He and his wife ,Kate, retired to Kingman and have resided in the Hualapai Mountain community of Pine Lake for the past 20 years.
Dave was preceded in death by his parents, Robert Louis and Ada H. Haydon, his brothers, Louis William Haydon and Robert Charles Haydon, and two children, Angeli Celeste and David Louis Haydon.
He is survived by his wife of 29 years, Katheryn "Kate" Haydon, sister Gena Wiley, and children Ada Lucille "Lucy" Nix (Jimmy), Deborah Alain Murray (Sheryl), Samuel James Haydon (Terry) and Patricia Dianne Haydon Ekstrom (Bill), and the children's mother Patricia Francis Federwisch as well as stepson James Christopher "Chris" Weiskopf, and loyal canine companion Ruby Do. Dave was blessed to have 21 grandchildren, 17 great-grandchildren and 5 great-great-grandchildren.
Dave was a master machinist and could build anything from metal or wood. He was the top machinist at the American Can Company in Houston, Texas before becoming a business representative for a number of machinist unions in the Houston area. His reputation as a contract negotiator grew to such a point that the President of the American Can Company offered him a Vice-President position for labor relations. He turned down the offer and remained true to his Union loyalties, eventually becoming an international representative for the International Association of Machinists and Aerospace Workers. At the time of his retirement, his area of representation covered Arkansas, Louisiana, Oklahoma, Mississippi and parts of Texas. In retirement he obtained his pilot's license and retained an avid love for aeronautics. He enjoyed golf, boating , camping and dancing.
He and Kate were members of St. Mary's Catholic Church. Dave also was a member of the BPOE, a volunteer with the Pine Lake Fire Dept. and active member of Guide Dogs of America. He served several years as president of the Pine Lake Fire District Board and was a prior president of the Hualapai Mountain Homeowner's Association.
Although he was disabled by an episode of septic shock on his 75th birthday, he continued to live a full and rewarding life. Over the last seven years, Dave attended graduations, weddings and escorted a granddaughter in a beauty pageant. He traveled to Hawaii twice, went white water rafting and ziplining in Costa Rica. He cherished time with family and friends.
A Catholic Mass funeral service is to be held at St. Mary's Catholic Church in Kingman at 10 a.m. Friday March 24. In lieu of flowers a donation to the American Cancer Society in memory of Dave Haydon to 1-800-227-2345 or online at cancer.org.