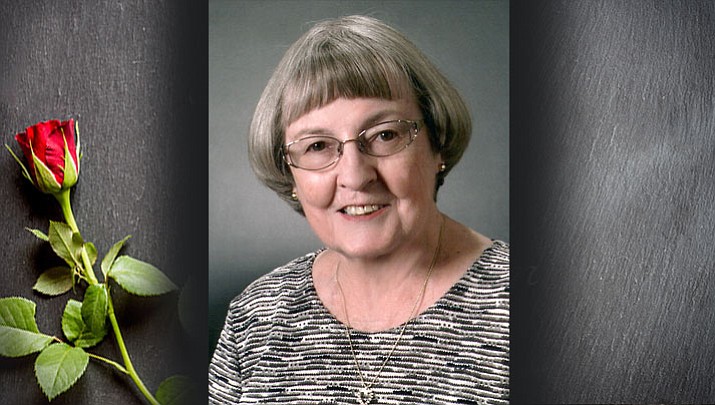 Originally Published: March 26, 2017 6 a.m.
"A mother's love is a special gift that will live forever in the hearts of her children."
Donna Jean (Richards) Semm was born in 1932 in Hastings, Nebraska where she grew up with her loving little "Sis," Shirley Rae. On March 3, 2017 in Kingman, Arizona, she made her final journey to be with God at age 84.
She married Russell Wesley (Wes) Semm on February 9, 1950. They celebrated a loving marriage of 57 years until Wes' passing in 2007. She will be greatly missed as we still miss our father. We are comforted knowing they have been reunited in heaven.
In 1957, Wes and Donna moved from Hastings, Nebraska to Southern California with four children in tow. In 1987, they made their retirement journey to Kingman. Both quickly became involved in the community and embraced their love of travel, especially throughout America including return trips to Nebraska to see family and friends.
Donna's professional desire was to be a nurse, but as always, Donna put her family first. Her family was her greatest pride and provided her with a lifetime of fulfillment. Donna loved life and people, especially her immediate and extended family. She was the most loving and accepting person, and she would embrace anyone.
Donna especially loved to work with others, including those associated with St. John's Methodist Church, as a volunteer with the Kingman Regional Medical Center, Morning Glories, and her friends and neighbors in the Legacy Community. These opportunities, especially as a KRMC volunteer, provided her with great joy and satisfaction knowing she was assisting others in need.
She always made time to visit, care and love her family, friends and acquaintances. Additionally, over the years, Donna embraced other senior-aged women to ensure that they had the feeling they were loved. She cared for and assisted them when family members could not be present. Donna did not want any of her friends to be lonely, so she kept in close contact and comforted them when they were ill, lonely or just needed a friend. Many times she gave comfort through her delicious food and baked goods.
She also was an artist, which gave her a great appreciation for artists both local and abroad. She loved listening to music to the beat of Rod Stewart, Celine Dion and Michael Jackson. She was a lover of all animals, but she especially loved her cat, Sammy, that she obtained through an adoption program.
Donna is survived by: Children: Bob (Rhonda) Semm, Terry (Roger) Ueda, Larry (Linda) Semm and Gary Semm. Grandchildren: Donna (Gabe) Esquibel, John Trotter, Todd (Christy) Semm, Travis Semm (Sierra-fiancée), Jenna (Jaime) Alvarado, Rocky (Luke) Meadows, Marc Morris, Jason Ueda, & Jamie Ueda. Great-Grandchildren: Devin Serrano (Beth-fiancée), Gabriel Esquibel, Estevan Esquibel, Marissa Esquibel, Matthew Esquibel, Manny Esquibel, Daulton Meadows, Addyson Meadows. Great-Great-Grandchild: Michael Serrano. Her legacy continues with two new grandchildren arriving in July. Also, her beloved sister, Shirley Rae Hajny and her children Kelly, Jeff and Shawn, and numerous family members in Nebraska. She is preceded in death by her parents, Kenneth & Agnes Richards.
A memorial service to celebrate her life will be held at Sutton Memorial Funeral Home on Friday, March 31 at 1 p.m. In lieu of flowers, the family requests that donations be made to the Fisher Center for Alzheimer's Research Foundation, 110 East 42nd Street, 16th Floor, New York, NY 10017 (www.alzinfo.org/), or For The Luv of Paws, 8115 W. Oatman Highway, Golden Valley, AZ 86415 (http://www.fortheluvofpaws.org/).