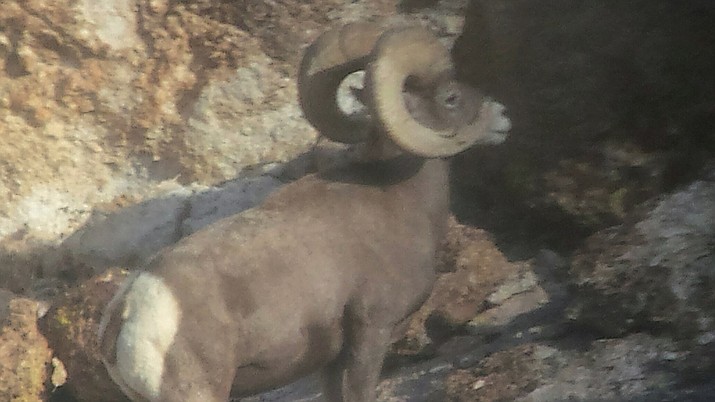 Photo by Don Martin.

Originally Published: March 28, 2017 5:55 a.m.
Last week, I wrote a story about how elk made their way into Mohave County.
I also posed the question to the Mohave County Board of Supervisors that since we know that the elk here now are not really native – they came from Yellowstone National Park and are Rocky Mountain elk – maybe another animal that is native to the county would be more appropriate on the county seal.
The responses I got are interesting and I'll share them with you.
Supervisor Steve Moss said in an email that he liked the idea.
Supervisor Jean Bishop said, "Sorry Don, can't think of any appropriate comment."
Supervisor Hildy Angius was a little more forthcoming when she said, " Hi Don, since we spent thousands of dollars three years ago to update the seal, I would doubt we would do it now. But out of curiosity, what would you like to see on it?"
Supervisor Gary Watson, also offered up some information that I thought was interesting.
Watson stated in a text, "The original elk in Mohave County were Miriam (sic) elk. The last one was harvested in the Hualapai Mountains. Was around 1905 or so. A Miriam (sic) elk actually was in the Lodge room prior to the fire that gutted that part of the building.
"Oscar Osterman told me that the saw mill near Pine Lake was the last known location for that small herd."
Watson went on, "You have a very good suggestion for the desert bighorn. Just wanted to pass on what I know on the subject."
Supervisor Buster Johnson, despite two emails asking for a comment, never responded.
As you might imagine, my choice for the animal on our county seal was, of course, the desert bighorn sheep.
First of all, Mohave County has been home to these sheep for who knows how long – maybe thousands of years as sheep bones have been found in caves in the Black Mountains. They were there many years prior to there even being a Mohave County.
They are a native animal and are one of the most majestic desert dwellers in the Southwest.
They thrive under the most severe climatic conditions in the Southwestern United States, and to many, they are a symbol of survival.
So why not change the seal to reflect what Mohave County is – a county that, despite many challenges, is able to survive and prosper?
I admit I did not know that the county changed the seal three years ago. And I believe Angius when she says they spent thousands of our tax dollars to make the current seal.
And after reading what Supervisor Watson said about there being Merriam elk in the Hualapais at the turn of the century also makes a powerful statement. But the elk there now are not descendants of our native elk.

The question is, how do the residents of Mohave County feel about this issue?
Remember the supervisors represent you and me. They work for us and they try and make the best decisions based on what is good for us and the county.
I know that to many this is a subject that may seem trivial and not worth the ink to print this column.
But to others like me, and I fully admit that I am enamored with the desert bighorn sheep and what they stand for, this is an important issue.
But this is a democracy, and whatever the majority of the citizens want will probably be how it ends up.
I am going to continue to beat this drum and I hope you will join me.
All it takes is 10 minutes to send the supervisors an email stating your opinion.
Here are the addresses of the Board and of County Manager Mike Hendrix: Jean.Bishop@mohavecounty.us, Steve.Moss@mohavecounty.us, Gary.Watson@mohavecounty.us, Hildy.Angius@mohavecounty.us, Buster.Johnson@mohavecounty.us, Mike.Hendrix@mohavecounty.us.
My hope is that someday, the sheep that so embodies what we in Mohave County stand for will be on the county seal.