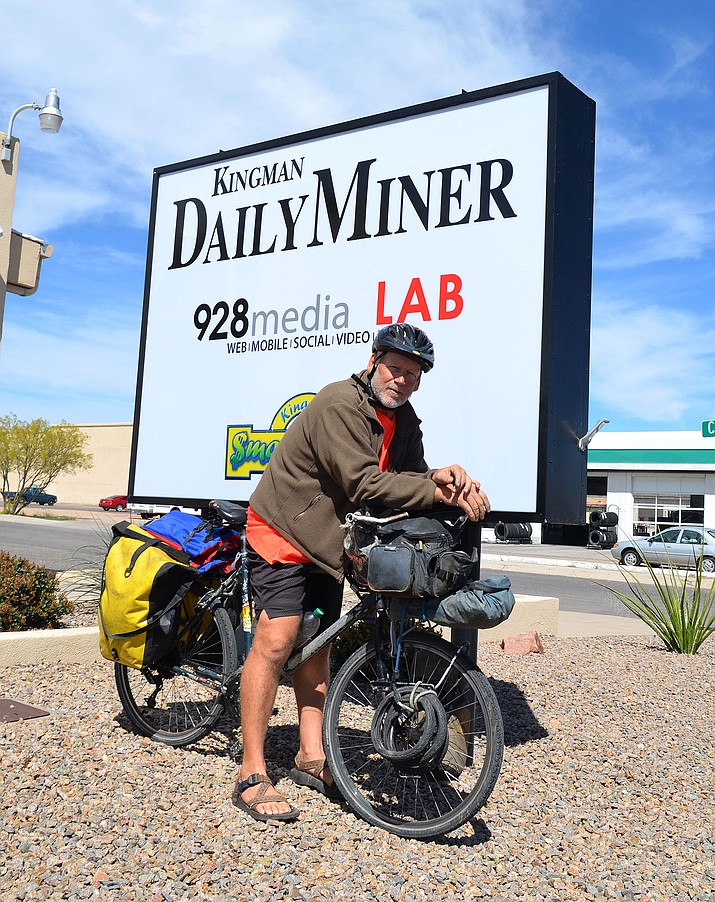 Photo by Aaron Ricca.

Originally Published: March 30, 2017 5:58 a.m.
KINGMAN – Long distance bicyclist T.J. Forrester rode through Kingman Wednesday to raise awareness for muscular dystrophy.
Having traveled 7,300 miles, Forrester is half way to the end of his trip, he said.
He said he started out in Key West, Florida, on his "ride between the stars," referring to the stars on the map.
Not simply crossing from one side of the continent to the other, his first destination took him from Key West to San Diego and then next to Portland, Maine, and back to Key West.
"I lost two brothers to muscular dystrophy," he said. "One of the things about diseases is the pharmaceutical companies put their money where (they) get the most return."
He said the Muscular Dystrophy Association website has a link to allow people to make donations.
A bicycle is not a necessary mode of transportation for Forrester. He hiked the Appalachian Trail and the entire Pacific Crest and Continental Divide trails as well, he said.
He needed a warm place to "winter" this year and spent it in Slab City on the desert of Southern California.
"It was a real adventure," he said, adding the mix of people ranged from the wealthy with their quarter of a million dollar RVs to "meth heads with everything they own on their backs."
He said bicycling on major highways is "dangerous" and "scary." He said drunk drivers and those who text while driving are scary.
He described what it is like taking a trip like this.
"…It's one mile at a time, one day at a time and that's how the ride adds up," he said. His next stop is Flagstaff.
To learn more, visit TJ's blog page at: tjforrester.blogspot.com