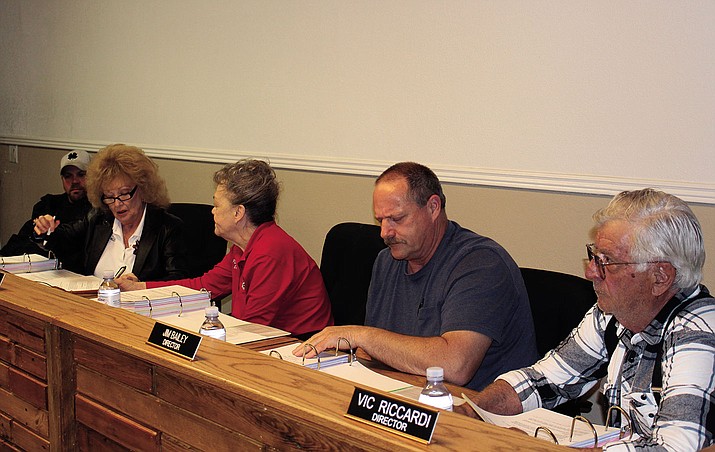 Photo by Hubble Ray Smith.
Originally Published: March 31, 2017 5:59 a.m.
KINGMAN – Patti Lewis said there's a union push behind the effort to remove her and Vic Riccardi from the board of Northern Arizona Consolidated Fire Department, which has undergone a change in fire chief and is still recovering from a slashed budget.
The board voted 3-2 on March 22 to rehire former Fire Chief Wayne Eder, overriding opposition from board members Mike Collins and Jim Bailey and more than 20 firefighters and staff in the audience.
Lewis, chairwoman of the board, said there was a misunderstanding over the motion because of all the arguing and interruptions during the contentious special meeting.
Eder wasn't hired as fire chief permanently, she said. He was hired to find a new fire chief, which is expected to take about three months.
An application for recall petition was filed March 27 with Mohave County Elections by Donna Rushing, mother-in-law of NACFD Capt. Brian Grant. He's the leader of the United Professional Firefighters of Kingman.
A statement on the recall filing said Lewis and the board majority has "wasted taxpayer dollars by hiring an interim fire chief who was responsible for wasting millions of taxpayer dollars."
The fire district's budget fell from $5 million to $2 million due to a drop in property tax revenue, resulting in the closure of three fire stations.
"Our budget never dropped while I served as chief, and only dropped after I left the district," Eder said in an email to the Daily Miner.
He did not return a request for comment on the recall effort.
The recall application also said the board repeatedly violated open meeting laws by "secretly making decisions behind closed doors," and that board members' "unprofessional actions and language have created a hostile environment for taxpayers and employees."
Grant said the recall effort was orchestrated by Local 4191 because of the board members' dishonorable actions.
"They have all the answers before they ever come to the board meeting," the fire captain said. "They got rid of a fire chief who was keeping the status quo and they're bringing in a guy who made an uneasy working environment."
There's going to be the "hearsay game" as to what came up missing in the budget prior to 2009, but it was a healthy budget when former Fire Chief Patrick Moore took over, Grant said.
"What you're involved with here is you have a lot of union people," Lewis responded Wednesday. "I called for the union to speak out and only two of them did, and one guy speaks every time. What you've got is a massive union working to change the fire district to union."
Lewis said she did not know the woman who filed for the recall. She has never been to a board meeting and has never made herself available for discussion, Lewis said.
Eder, who resigned as NACFD fire chief in 2008, was teaching at a fire school in California, and only took the job to clear up the "mess" left by the resignation of Moore in December, Lewis said. His contract is for $95,000 a year.
Collins said the board voted in January to pay $15,000 to an outside recruiting agency to find a replacement for Moore, but Lewis and board clerk Sue Wilkin refused to sign the check.
Instead of paying $15,000 to find a new chief, the district is now paying $95,000, Collins said.
Lewis said the agency contract increased to $25,000 with extra costs, only two candidates were found in seven months of advertising, and neither met fire chief qualifications.
Lewis was on the board when Eder was initially hired, then stepped down for medical reasons. She returned and ran unopposed in 2010 and 2014 when Moore was fire chief.
"At that point, we had a good chief," Collins said. "Everything was running smooth, so there was no reason for anyone to run against her."
Both Lewis and Riccardi are up for reelection in 2018. Riccardi is former fire chief of Valle Vista Fire Department and worked with Eder when Valle Vista merged with the Hualapai Fire District.
Allen Tempert, elections director for Mohave County, said recall petitioners have 120 days to collect 892 signatures from residents who live in the Northern Arizona Consolidated Fire District.
A special election could be called by November if the signatures are validated.
"There's a lot of validation work in this," Tempert said.
After signatures are turned in and validated through voter registration, Tempert has to take the recall petition to the Mohave County Board of Supervisors for a consolidated election, which cannot be less than 90 days away.
Lewis, 72, said she's retired and never wanted to be on the board, but former Fire Chief Moore asked her to come back and help the district get through the rough times.
"I'm trying hard to make sure we have what we need," she said. "I've offered to step down and they said, 'Oh no, we need you there.' They came to me and asked for help."
More like this story