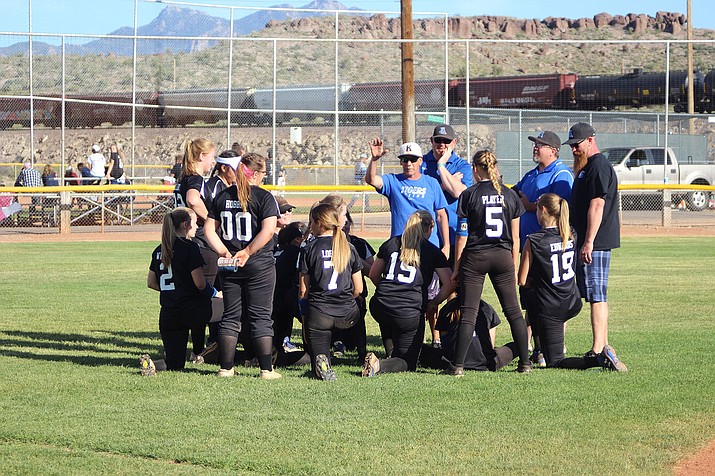 Photo by Beau Bearden.
Originally Published: May 1, 2017 5:55 a.m.
When I graduated from San Diego State University in 2011, I never would have imagined my journey leading me so far from home in Northern California.
I left the friendly confines of America's Finest City for stops in Pecos, Texas and most recently Hobbs, New Mexico. My time at the Hobbs News-Sun lasted nearly a year and a half before I knew it was time for another challenge.
That doesn't mean I didn't treasure the relationships with athletes and coaches alike in Hobbs, but I needed to continue to push myself as a journalist.
My extensive search led me to Kingman and it's been a whirlwind since driving 12 hours from Hobbs about three weeks ago. I've quickly adapted to the environment since then, but still know there is a lot more to learn.
So bear with me as I catch on after it took a little bit of time to adjust to New Mexico. However, the different system in each state is what makes high school athletics so enjoyable to cover. If all states were the same, it would take away from the diversity of each location.
So I'm up for the challenge and look forward to being your main source of information on sports in Kingman.
With that said, I will strive to not only cover every high school equally, but also pursue human interest stories that affect the community.
It won't be anything new though, as I covered four high schools and a college in the expansive Lea County in Southeast New Mexico. That experience taught me a lot about athletics and how important relationships are in this job.
While I have yet to meet all of the area coaches, I look forward to that opportunity in the coming weeks and months. The coaches I have met so far have helped tremendously in my transition, and I hope I can provide the same assistance in giving your teams all the coverage they deserve.
In my short time here, I've enjoyed covering the wide array of spring sports. While the baseball and softball seasons are in the books for Kingman-area high schools, I have no doubt that the squads will return even stronger next season and make a run to the state tournament.
The Kingman Academy softball team is one squad in particular that should have no issues repeating their success next year, especially with a strong class of eight seniors. Even more impressive is the fact that six of those Lady Tigers were starters this year.
But right now my focus is on this weekend's state track and field meet. A number of athletes from all three local schools will be competing, and I look forward to reporting on their successes at the highest level.
Lastly, I would like to thank the coaches and athletes from Lee Williams, Kingman and Kingman Academy high schools for your warm welcome to the community.
Your support has helped me feel right at home.