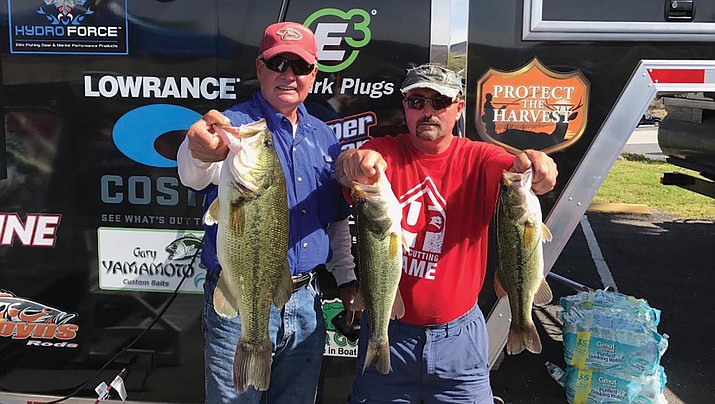 Originally Published: May 2, 2017 5:55 a.m.
KINGMAN – A few weeks ago a number of teams from Kingman participated in the Wild West Bass team tournament out of Callville Bay on Lake Mead.
It was the final tournament of four that Wild West Bass had set up on different lakes throughout Arizona. Teams had the opportunity to fish in tournaments that were held at Lakes Pleasant, Mohave, Havasu and Mead.
For the top 50 teams that qualified, it means a shot this weekend in the finals at Roosevelt Lake in Central Arizona, where the top prize is a lot of cash and a new Ranger boat.
The top Kingman team at the Lake Mead event was Shane Moline and his partner, Brian Ravelo. They finished 11th in the tournament out of 64 teams and received a nice check for their effort. Their seven heaviest fish weighed 18.81 pounds.
Another Kingman team that placed in the Mead tournament were Anthony Tatzel and Chris Morris. Greg Parker and Danny Lloyd had the fourth largest bass of the tournament, a lunker that weighed 4.7 pounds. They, too, got a check.
Ray and Donnie Scroggins, and Fred and Mark Proudfoot also did well in the tournament.
After the four qualifying tournaments were completed, the top 50 teams out of the over 125 teams that participated in the circuit were selected to participate in the upcoming championship round.
The Kingman teams who made the cut and qualified for the championship include Greg Parker and Danny Lloyd, who finished 11th in the standings. Ray and Donnie Scroggins qualified in 23rd place, while Anthony Tatzel and Chris Morris are in at 25th. Shane Moline and Todd Herman qualified at 29th.
Just missing the cut were Wally and Frankie Mueller, who finished 51st, and Fred and Mark Proudfoot, who finished 52nd. Ben Gross and his partner, Robert Zumwalt, fished in just two out of the four tournaments, but still finished in the top half of the standings.
Next week we'll have the results of the championship tournament, and hopefully we'll see the names of some Kingman anglers in the winner's column.
More like this story