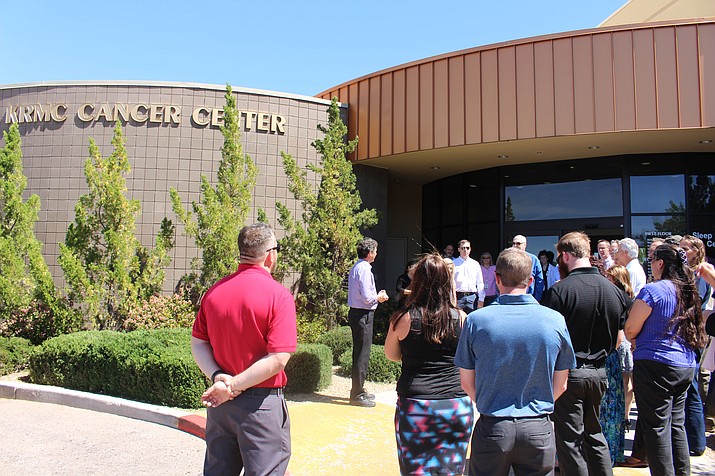 Photo by Hubble Ray Smith.
Originally Published: May 3, 2017 5:58 a.m.
KINGMAN – Kingman Regional Medical Center plans to double the size of its cancer center with a 9,000-square-foot expansion that will be completed in two phases, executives at the hospital said Tuesday.
The expansion is estimated to cost $12 million to $14 million, with TR Orr as general contractor and MRA architectural firm of Tempe as principal designer, said Ryan Kennedy, chief financial officer of KRMC.
The cancer center will add a second vault with a state-of-the-art linear accelerator, onsite pharmacy, a pneumatic tube connecting the two buildings and private parking for cancer center patients.
The expansion is on the north and west sides of the existing KRMC Cancer Center, which is located near the Del Webb Wellness Center.
"This keeps us in a position as a leader for quality of care," said Kerry Herbine, administrative director of the cancer center. "Our patients don't have to go to Phoenix or Las Vegas. We have the expertise and we're meeting their needs."
The new linear accelerator, which represents a $5 million investment, shoots beams of radiation directly onto the cancer cells without damaging surrounding tissue, he said.
"It's called radial surgery. The precision is literally to the fraction of a millimeter without using a scalpel," Herbine said.
KRMC Chief Executive Officer Brian Turney sets high standards and demands a lot from the cancer center, and follows through with support needed for those demands, Herbine added.
"We do operate very efficiently so we can make investments like this," he said.
KRMC Cancer Center is at capacity, taking in about 100 new patients each month and treating patients from 6 a.m. throughout the rest of the day, Herbine noted.
The new construction phase is scheduled for completion in October, while the refurbishing of existing space will be finished in February.