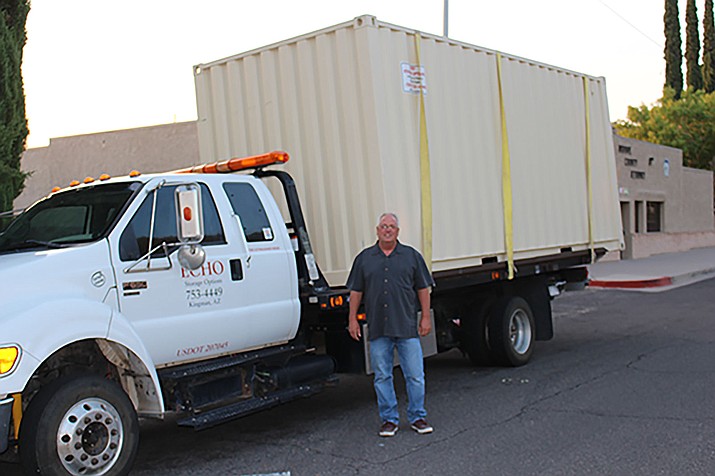 Photo by Bob Leal.
Originally Published: May 4, 2017 5:59 a.m.
KINGMAN – Bulky and boxy, storage containers are not aesthetically pleasing structures, but they're being used more frequently for both commercial and residential purposes.
City Council on Tuesday spent about 45 minutes discussing an ordinance to allow storage containers in C-2 commercial zones before directing staff to prepare a revised version and bring it back later.
The city's zoning ordinance permits cargo, freight and overseas storage containers in C-3 zoning districts with certain conditions. The proposed amendment would allow the containers in C-2 zones.
Councilman Stuart Yocum said there's little difference between C-2 and C-3 commercial zoning, and he didn't see how the city could enforce the ordinance in one zone and not the other.
The ordinance creates "uncertainty, confusion and a degree of angst," and the city should be as business-friendly as possible, Yocum said.
He understands concerns about aesthetics, but said there is new construction going on that aesthetically mimics these storage containers with corrugated steel siding.
The city needs to "lead by example" and remove its own storage and shipping containers within violating zones, he said.
Councilwoman Jen Miles said she found it disturbing that there are storage container violations in C-2 zones, and wondered if the ordinance would actually be enforced. It would be hypocritical to say one business can use it and another can't, she said.
Lisa Adams, a teacher in Kingman, said she gets what the council is saying, but this is the trend going around the country.
A lot of the younger generation are "thinking outside the box," she said, and shipping containers are seen as affordable housing for them.
"If it's affordable and follows zoning, then we have to look at it as a whole," Adams said.
Gregg Martin, chief executive officer of the Kingman Area Chamber of Commerce, said it would be a tremendous message to the business community if the ordinance was sent back for "creative" amendment.
Yocum made the motion to have staff bring the ordinance back with specifics about allowing the containers in C-2 commercial zones behind an 8-foot fence, required setbacks, aesthetics and repurposing the containers for residential use.