Originally Published: May 4, 2017 5:59 a.m.
KINGMAN – At a young age, Cade Martin knew he wanted to play college basketball.
The Kingman Academy senior accomplished that goal Tuesday when he signed at Chandler-Gilbert Community College.
"It's big," Martin said. "It's basketball after high school. It's been my goal since I was a kid, and I got it."
Martin had a few different colleges that were interested in him, but he decided to become a Coyote for one important reason.
"I had two other colleges look at me," Martin said. "I ultimately chose Chandler though, (because it was) closer to home."
Martin, the 2016-17 2A West Region Player of the Year, is expected to make an immediate impact at the next level. His new coach Steve Silsby told him he'll play a role on offense and help the team out. Martin is determined to live up those expectations.
"It's going to be a big transition for me," he said. "I'm going to have to put in a lot of work. I think I'll fit in well."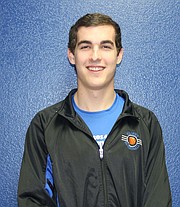 That shouldn't be an issue if Martin can carry over his numbers from his senior campaign. The 6-foot-4-inch forward averaged 19.7 points, 9.0 rebounds, 2.6 blocks and 2.1 assist per game. He ranked No. 5 in the 2A Conference in points and blocks as Kingman Academy won its first region championship.
The Tigers tallied nine straight victories in 2A West to finish 9-1, with their only loss being a 74-72 setback to Parker in the regular season finale. Kingman Academy then fell to Pima in the first round of the state tournament.
"I'll miss playing in high school. I loved it," Martin said. "I'll miss the crowds and all the fans, but it's going to be fun taking that into college because I bet there's a lot of fans there too."
While Martin is looking forward to a new fan base, he also knows his friends and family only have to take a short three and a half hour drive to see him play. With that said, Martin is happy to continue his passion in college.
"It's basketball," Martin said. "It's the same game for me on every level. Basketball is just doing what I love. Doesn't matter where it is. I'm just having fun."