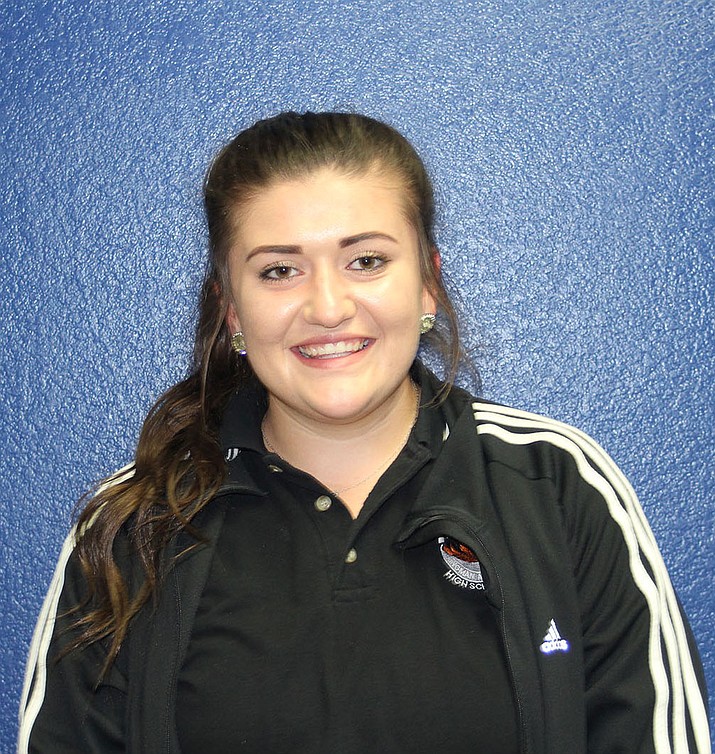 Photo by Beau Bearden.
Originally Published: May 4, 2017 6 a.m.
KINGMAN – When Kingman Academy's Amberlee Steed set a personal record of 34-feet, 9.5-inches in the shot put during the Kingman High School Multi April 5, the senior knew it was good enough to automatically qualify for state. What Steed didn't expect was for the mark to rank No. 2 in Division IV.
"I'm usually not ranked right there," she said. "So it's surprising."
Steed's accomplishment also meant a lot after not participating in track last year. She isn't a stranger to the sport though, competing during her freshman and sophomore years at Raft River High School in Idaho.
That experience will definitely pay off as Steed competes at the AIA Division IV Championship Friday and Saturday at Mesa Community College.
"I went to state my sophomore year," she said. "I'm glad I'm able to go again my senior year."
Steed will be put to the test though, especially considering Sedona Red Rock's Hannah Ringel ranks No. 1 with a throw of 41-feet, 6.5-inches. Steed isn't letting that bother her.
"I'm just going to try and PR (Personal Record)," she said. "I'm just going to push myself.
Unfortunately, Kingman Academy doesn't have a throwing coaching to help Steed prepare for state. That isn't stopping her from finding someone who knows how she can improve for the biggest stage she'll compete on this season.
"I asked my cousin who throws in college what I need to fix," Steed said. "I'm just working hard and hoping it all goes well."
Shot put won't be the only event Steed competes in this weekend, as she is No. 14 in the discus throw with a personal record of 92-feet, 3-inches. While it isn't her most prolific event, Steed is happy to go to state in another event.
"I'm not that good in discus, but I enjoy it," she said. "I'm glad that I get to do it longer."
Fellow classmate Jordan Seybert also qualified for state in the long jump and is ranked No. 20. While Steed is sad to know this will be the duo's final year with the program, she knows they'll leave their mark in the history books.
"It's cool (to be the first two state qualifiers at Kingman Academy)," Steed said.
While Steed has experienced the pressure of a state meet, that doesn't mean she isn't a little anxious to make the trip.
"I'm already nervous," Steed said. "But I'm just going to try and push myself. We'll see how it goes."