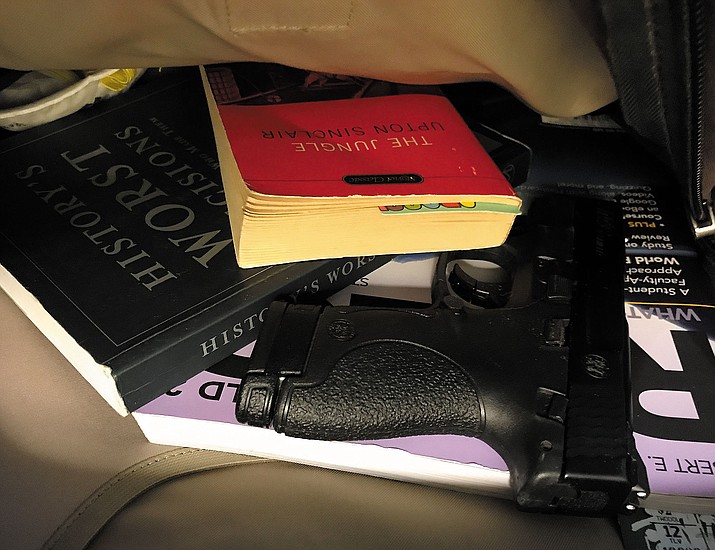 Photo by Aaron Ricca.

Originally Published: May 10, 2017 6 a.m.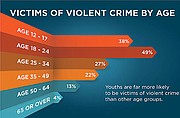 Recent threats of violence at Kingman schools have some parents on edge, but district officials want to ensure the public that they're ready to take action in the event of the worst.
A verbal threat by a student at Cerbat Elementary School in late April prompted school officials to reach out to the Daily Miner before a social media storm got out of control.
Principal Vicki Trujillo got a call from a parent April 20 who said her daughter was threatened on a bus by a 10-year-old third-grader who allegedly said she was going to bring a gun to school the following Monday.
"This threat was made against four different students," Trujillo said in an interview April 24.
Cerbat staff immediately contacted the Mohave County Sheriff's Office and alerted the Kingman Unified School District office. The school also sent out a one-call notification to parents before the weekend.
"We did not want this to wait until Monday," Trujillo said. "We followed district safety protocols. Threats are a very serious thing."
The child was suspended for an unknown period.
Manzanita Elementary School sent a letter dated April 26 informing parents of a verbal threat made by a student.
"The safety of our students and staff is an utmost priority, and as such, the threat was thoroughly investigated," said Principal Scott Taylor.
The matter was turned over to Kingman Police, who determined the threat was not credible.
"Manzanita students were never in danger, but we take all threats seriously," Taylor said.
On April 24, Kingman Academy of Learning received a report of a conversation between two students perceived as a direct threat to the school.

"Upon investigation by KAOL and KPD, it was determined that the conversation was not a threat, but simply conversation between a group of students." said District Administrator Susan Chan of the school's response on Facebook. "These students have been dealt with in the manner that was appropriate for the circumstances."
An 11-year-old boy was arrested on felony charges May 2 after four other students overheard the boy allegedly saying he was going to bring a gun to school.
What are KUSD and KAOL doing to notify parents of such incidents and how are they preparing for the worst?
Both districts have a one-call phone or email alert system to notify parents of a possible situation.
KUSD Superintendent Roger Jacks said each school has and is prepared to follow a set of emergency checklist procedures. There are also School Resource Officers from either Kingman Police Department or Mohave County Sheriff's Office at each school.
"None of our schools have had serious threats or closures," Jacks said. "We have had soft lock downs due to the advisement of police for searches that were in the general vicinity of one of our schools."

KAOL Emergency Management Director Eric Lillis said each academy campus has its own emergency management plan and procedures in place.

"We also participate in occasional lock-down and lock-in drills at our campuses coordinated with our student resource officer and with KPD," he said. "We have had no serious threats this year to any of our campuses.
"If we do have a situation where parents need to be contacted, Kingman Academy does have the capability to notify, through a mass email, all of our parents. These procedures are in place and are part of the current emergency management plan."
Kingman High School Principal Rusty Moomey said his staff has a yearly meeting to go over the safety manual.
"There's a set of procedures for anything you can imagine," said Moomey.
Jacks provided some excerpts from KUSD's emergency response procedures written in conjunction with the Arizona Department of Education and Arizona Department of Emergency Management that cover everything from shootings, natural disasters, suicide attempts and falling aircraft (White Cliffs Middle School is in the flight path of the Kingman Airport).
The general response to any emergency is to call 911 and for the principal to notify the superintendent. Steps by staff thereafter include assembling medically certified on-campus personnel, sealing off the high-risk area and keeping notes of the incident.
In the event of a weapon, staff or students aware of a weapon brought to school are to immediately notify a teacher or principal with the name of the suspect, location of weapon, if the suspect has threatened anyone and any other details that may prevent the suspect from hurting someone or themselves.
At this point, schools will notify parents on the one-call list and insist parents not call the school in order to keep lines of communication open between the school and emergency services.
There are lockdown procedures and shelter to provide refuge for students, staff and the public within the school building. Those procedures may be issued in situations involving dangerous intruders or other incidents that may result in harm to people at the school.
Disciplinary measures for threats vary.
"It can be anywhere from suspension to expulsion depending on the level of the threat," Moomey said. "It depends on the severity. Kids get mad and get upset. Things go on and they just blurt stuff out when they're hurting."
"It's really about how credible the threat is as to what actions we take," Jacks said.