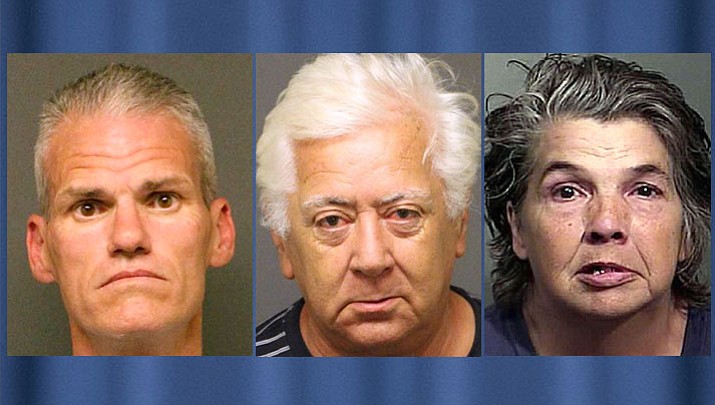 Originally Published: May 11, 2017 5:58 a.m.
KINGMAN – A Kingman man trying to sell heroin texted the wrong number and landed himself and six others in jail Tuesday.
According to sheriff's spokeswoman Trish Carter, the Mohave Area General Narcotics Enforcement Team was contacted by Arizona Department of Corrections parole officers after Christopher Willmon, 46, and a parole violator was texting one of their phone numbers, allegedly attempting to sell them heroin.

In the texts, Willmon allegedly said he was at his home in the 2400 block of Hearne Avenue and a deal to purchase the heroin was arranged. Parole officers and MAGNET detectives went to the home and conducted a search shortly thereafter.
Willmon was found hiding in a shed with a cell phone and allegedly in possession of the heroin he was attempting to sell.
A further search reportedly resulted in the discovery of drug paraphernalia for methamphetamine sale. The homeowner, Jon Dudek, 65, reportedly admitted to detectives that he had been selling methamphetamine for more than 50 years.

The following Kingman residents were arrested:
Christopher Dean Willmon, 46, for possession of narcotic drugs for sale, possession of narcotic drugs, possession of paraphernalia and a parole violation issued by Arizona Department of Corrections, all felonies.

Jon Francis Dudek, 65, for possession of dangerous drugs for sale and possession of drug paraphernalia.

Mark Saimaauga Napoleone, 37, for possession of drug paraphernalia.
Bonnie Louise Thompson, 62, for possession of marijuana, possession of drug paraphernalia, felonies, and a failure to pay fines misdemeanor warrant issued by Kingman Justice Court.

Ashley Dawn Wright, 28, for possession of drug paraphernalia.