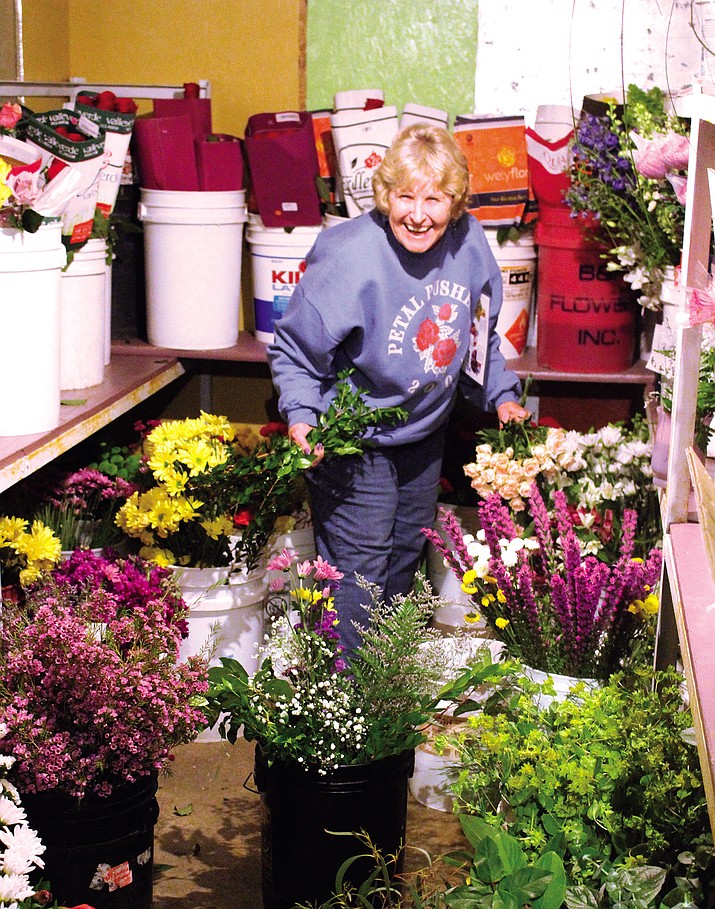 Photo by Hubble Ray Smith.
Originally Published: May 12, 2017 6 a.m.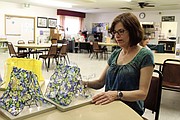 No matter how many times dad played football with his son in the backyard, should the boy ever grow into a football star with the TV camera on him, he inevitably mouths, "Hi Mom."
Let's face it: We're all mama's boys. And girls.
That's why Americans are expected to spend $23 billion on Mother's Day gifts this year, almost twice the $12.7 billion they spend on Father's Day, according to the National Retail Federation.
It's keeping the women at Heaven's Scent Florist busy clipping stems and leaves and arranging flowers Wednesday in preparation for Mother's Day, which ranks behind Christmas and Valentine's Day and ahead of Easter for the floral business.
Lillies and roses are classic favorites for Mother's Day, said Maggie Pozenel, owner of Heaven's Scent Florist at 3111 Northern Ave. Tulips and carnations will get the job done too.
"For Valentine's Day, it's definitely the rose, but mother likes all kinds of flowers," Pozenel said as she supervised flower arrangements and managed a bevy of delivery orders.
"We do a series of special arrangements that are exclusive, some I order myself from another supplier."
A lot of customers are buying garden pieces such as the Country Basket Blossoms going for $55 at Heaven's Scent. It looks like a small garden with the variety of blooms, the florist described.
Flowers aren't the only gift for mom. You might go for balloons, a box of chocolates or plush animals like the Little Angel Bear, since mothers look after us like "guardian angels," Pozenel said.
Money-saving tips
You can pick up flowers at the grocery store for $10 or you can go extravagant with a rose wreath like the one Maria Tyson made at Heaven's Scent. She was excited to see it sell for $75 a day later.
The best way to save money is to order early, Pozenel said.
"Suppliers' prices go up around the holidays, so our prices are forced to go up too. If you order early, you get the everyday rate," she said.
She encourages customers to personally pick up arrangements. Not only does it save on delivery fees, but you get to see mom's face when you give her the flowers.
Other tips:
• Shop local. Local florists have a different selection of flowers than what you might find online. You can score a great deal on flowers that are considered to be in-season in the region. On the flipside, shopping online with retailers such as FTD and ProFlowers give you the chance to compare prices on a variety of flowers.
• Skip the vase. They can cost as much as $20 extra and chances are you have a vase or jar around the house that will showcase the flowers just as well as the fancy heart-shaped vase.
• Use coupons. They're especially plentiful online, though more difficult to find when shopping local.
• Skip roadside stands. They seem to pop up overnight as Mother's Day approaches. You never know the quality of those flowers, and they're often quick to die. They lose life every minute they're outside of the cooler.
• Paper bouquet. If mom's allergic to flowers or simply doesn't care for real flowers, create a custom paper bouquet to show her how much effort you put into your Mother's Day gift. It's also a great way to get the kids involved in the project.
• Mix it up. Bouquets made from the same flower in the same color are seen as more traditional, and thus more popular. Save a nickel or a dime by going for a mix of flowers and different colors.
Simple rewards
If you really want to pinch pennies, show your love and appreciation for all that mom has done by sharing a kind word, find a gift as meaningful as it is beautiful, and remember the little things.
She's the one who always reminded you to say, "Thank You."
Turn it around and show her you were listening by putting a few words from the heart down on paper.
"Whether it's a beautiful card or a simple heartfelt letter, you mother will treasure the personalized statement," StatePoint Media says in a family advice column.
Think about treating mom to a day of relaxation. You could cook her a meal or check off a few chores from her to-do list. Remember, mom always did the little things for you; now it's your turn.
Of course, if the wallet can handle it, nothing says "I Love You" better than a nice piece of jewelry.
There's a good reason mom gets a little more attention than dad on those special days, said Carole Gallagher of Heaven's Scent.
"I think in general, people are closer to mom," she said.