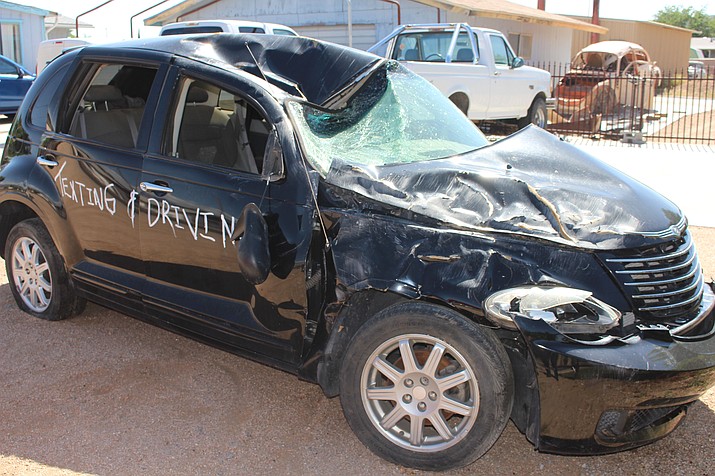 Photo by Hubble Ray Smith.
Originally Published: May 12, 2017 5:55 a.m.
KINGMAN – The message painted on the passenger side of the wrecked 2007 PT Cruiser displayed for everyone to see on Willow Street is simple: Texting and Driving.
Julie Swope wants people to know what happened to her daughter, Megan, who was a passenger in the vehicle when it crashed and rolled on Pierce Ferry Road in Dolan Springs on Oct. 3.
"Her friend was driving erratically and texting and lost control of the vehicle," Julie Swope said Wednesday at her Willow Street home.
Megan, 22, who was not wearing a seatbelt, was ejected through the passenger window. She was unresponsive and having difficulty breathing when medical personnel arrived at the scene. She suffered a broken pelvic bone and internal injuries, and was airlifted from Kingman Regional Medical Center to University Medical Center in Las Vegas.
The driver, Nicole Rae Riley, 21, of Kingman, lost control of her car going around a curve and drove onto the shoulder, then entered the roadway in a slide, according to the accident report from Mohave County Sheriff's Office. The vehicle slid into the desert, hit a dirt berm and wood sign and rolled twice.
The driver and another passenger, Dale Umphrey, 21, of Kingman, were wearing seatbelts and sustained scrapes and minor soreness.
Julie Swope's husband and father-in-law parked the car at Kingman High School for a couple of months for the kids to see, she said.
Texting while driving results in 11 teenage deaths every day, according to AAA. A poll shows 94 percent of teen drivers acknowledge the dangers of texting and driving, but 35 percent admit to doing it anyway.
Twenty-one percent of teen drivers involved in fatal accidents were distracted by their cell phones.
Does the wrecked car get the message across?
"They have to want to (stop texting while driving)," Swope said. "If they don't want to, they're not going to keep themselves safe."
Swope said her daughter felt bad because it was the first time she hadn't buckled up. Megan was in the hospital for a month and in a wheelchair for two months.
"It's scary," the mother said. "I've seen videos on Facebook of a girl texting and running head-on into traffic."