Photo by Beau Bearden.
Originally Published: May 14, 2017 6 a.m.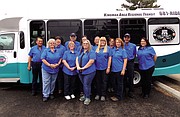 Colleen Nelson moved from Phoenix to Kingman in 2006 and is one of the many area residents who depend on Kingman Area Regional Transit to get around town.
"KART is very helpful," Nelson said. "All the bus drivers are very nice. They're, as far as I'm concerned, trained for handling handicapped, wheelchairs and stuff like that."
KART operates four routes in Kingman and throughout the greater Kingman-Butler area. Three of the routes are completely within city limits, and one route travels outside the limits to service a portion of the greater Kingman-Butler area, which includes the college. There is no service on Sunday or on City of Kingman observed holidays. The City of Kingman website states KART travels approximately 190,000 miles annually and provides around 7,000 to 10,000 passenger trips each month. Fares range from $1.50 per one-way ride or $65 for a monthly pass.
While Nelson said she is happy with KART, she did mention one improvement that could help lessen extra costs to passengers.
"KART should have a transfer for a certain period of time like two hours or something," she said. "But the day pass is $5. So actually, it works out."
Public Transit Superintendent Sheri Furr doesn't see KART adding transfers due to the smaller service area, whereas Phoenix uses an automated service for a larger community.
"We know transfers can be a convenience for many people because you sometimes have to take two busses to get where you're going," Furr said. "But we do offer an all-day pass for $5. That's been helpful."
Furr went on to say she's hopeful that the price of a monthly pass will drop to $55 when the new budget is passed.
That price is for the general public, as KART offers discounted fares for seniors, veterans and disabled individuals, according to Margaret Daw of the Transit Advisory Commission. Seniors and veterans qualify for a $10 discount off of the cost of a monthly pass.
"KART is very important because I think we have a lot of low-income people in the community that do not have automobiles," Daw said.
KART also provides curb-to-curb service for individuals who can't make it to the designated bus stops throughout Kingman.
"You just have to call at least a day in advance and say, 'I need to be at the hospital on such-and-such a day at such-and-such a time and I cannot walk to the bus stop,'" Daw said. "So they can come pick you up right at the (curb) and take you right to where you need to go."
The cost for curb-to-curb service is $6 for the general public and $3 for seniors and disabled individuals. Reservations can be made from 9 a.m. to 3 p.m. Monday through Friday by calling 681-7433.
KART's main hub is on the north side of Walmart and that is where all the busses start and end their routes each day.
Most of the big stops have covered benches, something that Nelson said wasn't as prevalent in Phoenix. Nelson mentioned that is helpful and she has also noticed an increase in usage of KART.
"It seems like there's more and more people using the system these days" Nelson said. "It's only logical. They log how many people they pick up and that way they know if they need to re-route their system and everything like that."
While Furr mentioned that KART ridership has seen a significant increase in the last couple of years, she did mention that it has dwindled a little bit this year compared to last year due to the drop in gasoline prices.
Kingman and Mohave Manufacturing Association is trying to help out by adding public transit service to the Industrial Park.
"Applicants with currently limited private transportation options might be more likely to apply for jobs at the Industrial Park," City Councilman Travis Lingenfelter posted on his Facebook account. "Current employees could benefit from a reliable and less expensive mode of travel to work compared to their own vehicle."
Nelson doesn't have the luxury of personal transportation though, so she'll happily continue using KART, while also building friendships with the bus drivers.
"I'm happy with it," Nelson said of KART. "Regina, Frank, Sherry, Laurie. I have no transportation, so they're all very nice. We kind of look after each other."