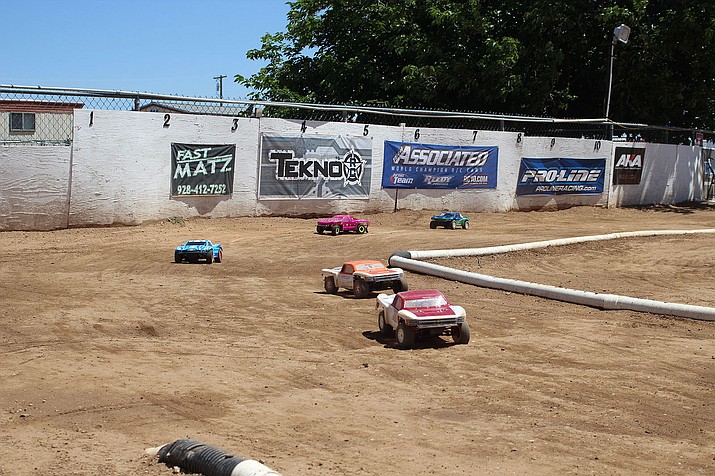 Photo by Beau Bearden.
Originally Published: May 14, 2017 6 a.m.
KINGMAN – Denise and Doug Huffman have come a long way since moving from Michigan to Kingman three years ago.
The couple started out as racers who spent time at the dirt track at 4450 N. Arizona St. They still do, but now own it. They've named it D & D Remote Control Racing and want to keep it thriving for the community.
"We're trying to build the interest back up because it's an easy, fun way for kids to come out and be away from drugs and alcohol," Denise Huffman said. "It's a good family sport that they can do together. We really just want to try and get more of a family fun time environment."
Ben Hanson and his wife know that is the case, as they could be found Saturday tinkering with their multiple RC cars. The couple found their passion for RC racing after Hanson's wife's brother bought a car.
"It's something that we can do together," Hanson said. "Then the family can come down and watch, and have fun. Kids can do it, too. It's very family-oriented."
Hanson has $1,500 to $2,000 invested in one of his cars, but there are also cheaper options. The best route for first-time racers is to rent a car for $5 and pay another $5 to use the track.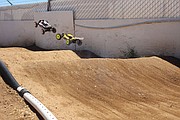 "It only costs $5 to come out and race for the day," Denise Huffman said. "The initial cost of buying a car is a couple hundred dollars. That's your main cost. After that, the maintenance isn't really expensive."
Those interested in racing can call 231-679-6459 for practice and race times. However, race nights are held at 5:30 p.m. Tuesdays, Fridays and Saturdays.
Kingman's Chris Martinez could also be found working on his car Saturday. He also has a lot of money invested in his cars and the passion started from a similar interest.
"I've kind of always liked off-road stuff," he said. "So that's kind of what got me into it to begin with. I like dirt bikes and stuff. Without getting hurt, you can actually race these. It's the fun without putting yourself at risk."
While racers are safe from injury, that doesn't mean their cars are. There is always a chance of damage. Luckily for Martinez and the Hansons, the drivers are a tight-knit community and willing to help each other.
"We all have the common ground and we're all here for the same thing," Martinez said. "We all want to have fun and if someone is not able to have fun and race, then you want to try and help them out a little bit or their day is going to be over.
"So of course you want to help out. So that way everyone can have fun and smile all day."
Along the same lines, the Huffmans have to take care of the track and make sure it remains suitable for cars to race.
"There's a certain amount of maintenance and costs that goes into it," Denise Huffman said. "We try to change around the track every three to four months. Put a new race layout so that it's different and people don't get bored with it."
Huffman also mentioned they depend on the racers and other community members to help out since it takes a lot of work to change the layout.
With that said, racing RC cars is definitely an activity worth trying.
"It's fun," Hanson said. "A lot of people say, 'You're a grown man playing with RC cars.' But come on, I have a hobby."